A super great night with Gamefroot
Last night the City Gallery played host to the launch of Gamefroot, a new platform on which to build platform games – or more specifically, a HTML5 Game Creation tool.
If you can use a web browser and if you can use mouse to click and drag – then you can use Gamefroot. The bar has finally been lowered – other people have promised it but none have been as easy as this, with Gamefroot you no longer need to be a programmer to make games!

What is awesome about Gamefroot in my opinion? Gamefroot allows you to make awesome games. It allows you to make big games, small games, adventure games, happy games, sad games, story based games, space games, sci-fi games, and with our Scratch-based user Interface for creating advanced behaviors, you can pretty much make any type of game your imagination can come up with.
It's true, the interface IS super easy to use….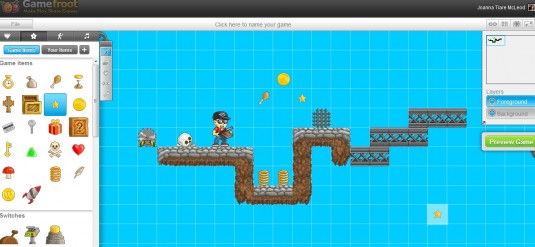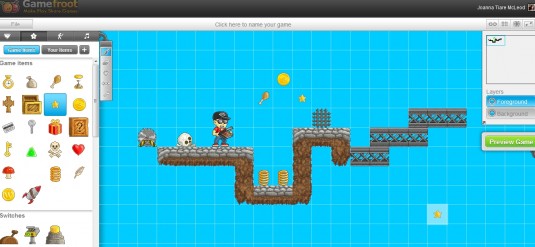 I was worried that there'd be a downer note on the night in which we'd troop into the theatre for a presentation and not be allowed to take our wine through (horror of horrors!) but in fact, we were able to watch from the main room as some kids built their own game for the event sponsors Hell Pizza. Y'all know my feeling on kids at events where I am drinking, but these ones were super awesome, engaged in what they were doing, and creating some pretty sweet stuff.
Someone else who'd created his own game was Weta artist Greg Broadmore (fun fact: one of the biggest search engine terms for visits to the 'ista), who demoed Lord Cockswain in V for Venusians DM.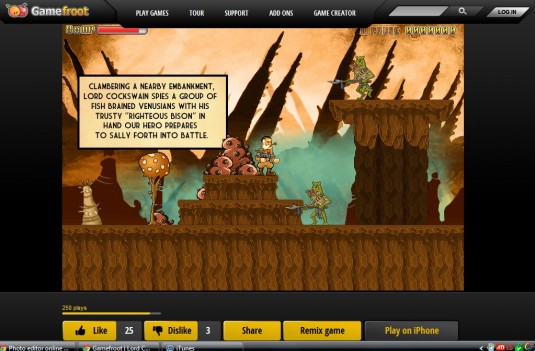 Once you've made a game, you can share it on the site, or embed it into other web pages. Intriguingly, you can also remix games, which I might take up doing if only to correct some of the apostrophes in the other games I've tried, like The Young Issac about Sir Issac Newton (see, you can play and learn at the same time!).
Thanks for such a fun party! The wine and tasty beers from Hashigozake flowed freely, the room was stacked with a brilliant mix of good people to talk to, there were appropriate tunes from TV Disko and a very energetic set from Disasteradio, and pizza topped with my favorite schadenfreude sausage. Our Anna Dean knows how to throw a great launch! More importantly, while the Gamefroot team are still working on the iPhone part, it looks like the site has buttloads of potential. Now can someone build us a Wellingtonista game please?