Fashion in reflection
Fashionably late is usually a term reserved for the truly glamourous, so perhaps it is apt that this belated post is a snapshot of Wellington Fashion Week.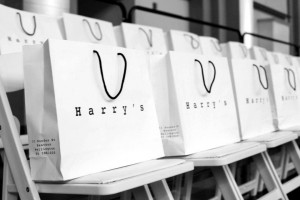 Group A – April 19
After a well-groomed schmoozing opening party, things truly kicked off – with stilettos on – with the Group A show on Thursday night.
Staged within the Brutalist exterior of Massey University's Museum Building, the show was anything but tough, unravelling a catalogue that included a stalwart of NZ fashion in Trelise Cooper, equally rich in heritage is Ashley Fogel – a man and label that has been dressing NZ woman in classicist fashion for decades.
The Museum Building is the perfect interior venue for fashion, with an art deco nod to the past and a cool bridge to the present.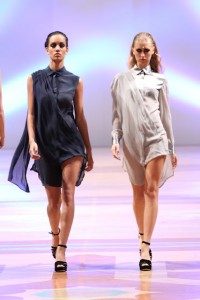 Hermione Flynn's collection kicked off the show with naive charm, a collection that showcased eclectic inspiration ranging from beatnik polo necks, to jodhpurs and Hindu bindis on all the models. While the eastern influence was inspired, the execution was a little scattered.
Ashley Fogel's collection followed with a show that highlighted quasi animal prints, Bowiesque jackets and the good side of 80s power dressing, plus polka dots aplenty. Fogel's collection surprisingly showed up the youth with a sharp sense of nostalgia – updated to a modern template – with the timeless backdrop of beautiful fabrics. 
Lucy McIntosh approached the floor with a mix of Nordic gothic outfits that reminded of Ingrid Bergman movies, i.e. 'The Seventh Seal'. 
Nouveau was next to grace the stage, seemingly channelling 'The Great Gatsby' and Bowie's 'Aladdin Sane' in equal measure.
moochi mixed things up too, with Noir touches, popping with neon trimming, also loud plaid fabrics and generally playing hopscotch through the decades, cherry picking details that made for a cohesive eccentric collection rather than a bland theme park of ideas.
Mardle sent us on a cosmic journey through a Mary Quant vortex that ended up in Janis Joplin's wardrobe… a curious place to be!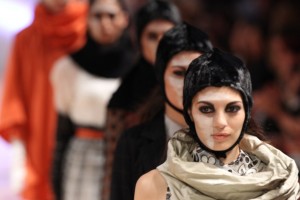 Taylor boutique took to the catwalk in the rich, creamy tones of wool, embracing the thought of winter with flowing garments that sung of warmth & elegance in the same stride. Though the chunky layering got a little like Swandri off cuts merged with duvet inner at times.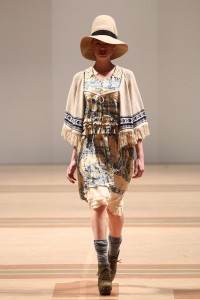 The show finished with the expertise of Trelise Cooper and her army of worker bees who always put on a truly theatrical event. With a romantic sense of fashion through the centuries, Trelise Cooper took us on a journey through an imaginary landscape where the Bronte sisters rode bareback with Coco Chanel, an equestrian themed wonderland where the rich tones of the countryside were embellished with delicate lace, fascinators and impeccable detail. It was a lesson about how to conduct a fashion show, let the clothes speak for themselves and leave the theatrical aspects to the music and art direction of the show.