fabric-a-brilliant
Imagine if you will,  40 tables  stacked full of vintage fabric from the 1950s and 1960s,  and lace from the 1920s.  Add in all sorts of delightful sewing accessories like buttons and vintage patterns and you start to get an idea for what the biannual Fabric-a-brac sale  is  all about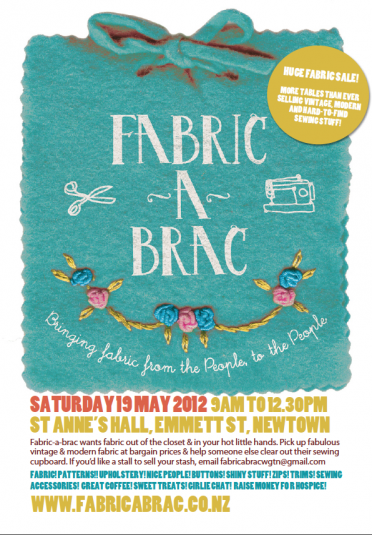 It's being held this Saturday 19 May 2012, 9am to 12.30pm at St Anne's Hall, Emmett St, (close to bus stops and easy parking) Newtown, Wellington.
The stallholders stack their tables with fabric they no longer need, so it can find a new home. They come from Wellington, Christchurch, Napier and Palmerston North and range from private sewers to small clothing, accessory or upholstery businesses.
Another important aspect of Fabric-a-brac is its huge fundraising efforts for the Mary Potter Hospice – so far Fabric-a-brac has raised around $10,000 in total.
You'll see many a table selling donated fabric and notions to raise money for Mary Potter Hospice here in Wellington. Now more than ever it's a good time to come along and spend at Fabric-a-brac or donate online  as this week's rain flooded their Porirua store destroying tens of thousands of dollars worth of stock that is sold at the hospice shops in Wellington. Iif you can't make it to any event why not consider donating to hospice, every tiny amount helps
But wait there's more –
There will also be two workshops on Friday 18th, the night before, hosted by World of Wearable Art Awards section winner and Good Morning host Fifi Colston, and the woman behind tiny happy, Melissa Watsney.
Both Fifi and Melissa are hugely creative people and  incredibly inspiring crafters, so the chance to learn from both in one night is pretty special and it's only $8 per session, $16 in total and all money going to the Mary Potter Hospice.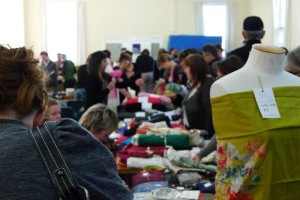 6.15pm – 7pm = It's in the bag – shoulder bag tutorial with Melissa Wastney
7.15pm – 8.15pm = Celebrate your fabulous fabric finds with Fifi Colston (and some ideas for what to do with them)