It's all in the game.
Avert your eyes if you are vegetarian, have an aversion to meat products, or if you've had a pet bird and now chicken is not a menu option. What follows is a discussion of a delectable degustation dinner consisting of game birds.
Unless you belong to one of the three groups above how can you turn away an invite­ to eat five courses, laden with NZ game, matched with wine, at one of Wellington's best Cafés? We couldn't say no, so we said yes!
Laura, of HungryandFrozen fame, and I were two of the lucky ones to be inside when Pravda Café shut their doors at 7pm, leaving the grand space to be enjoyed over three and a half hours as course after course was served.
We were greeted at the door and offered a glass of fine wine and a range of canapés. The warm Pea Soup shooter with truffle oil and parmesan – silky smooth with the full-mouthed goodness that only truffle oil can offer. There were also Beetroot and Pine Nut creations, barely set with – I presume – gelatine, exploding with flavour and leaving you wondering "what just happened in my mouth" and reaching for a second (and third.)
Glen Houston, restaurant manager for over three years, explained how head chef Adam Ricketts had worked on the Pop Up degustation at the Embassy in May this year and wanted to do something similar on his own turf.  Adam worked with New Zealand Game Birds and Church Road Winery to create a menu that gave us a chance to sample game at its finest and also a new series of wine that Church Road had added to their range.
Adam plunged us into the world of game birds with Partridge Terrine, Tamarillo Chutney and Persimmon Bread. Terrine isn't for all but this was exquisite – rich and smooth and full of gamey flavour, balanced by the sharpness of the chutney and the cakey bread. It was well matched to the citrus elements of the Sauvignon Gris 2011 from the Church Road McDonald Series, the new series between their Classic and Reserve ranges offering a few different varieties of wine.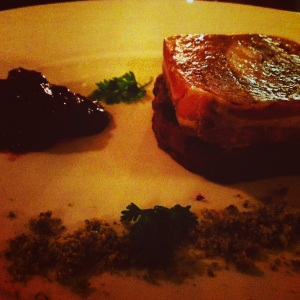 I blame the candle light for the poor photo and thank Instagram for making them more palatable.
Second course consisted of game consommé and truffled mushroom tortellini paired with the Church Road Reserve Chardonnay 2010. The combination of the rich yet delicate consommé and more aggressively flavoured truffle was excellent- full of umami.
The breast of Pheasant stuffed with Chestnut and Sage alongside Saute of Cavolo Nero and Celeriac Puree was our third course. After the consommé this was a far lighter flavoured dish. The pheasant breast itself was not ultra gamey. A "So, you're wanting to dip your toe in game" type of game flavour rather than a "What, you've never had a Turducken!?" kind of thing. However when matched with the spicy finish of the McDonald Series Marzemino it really was grand, and the velvety puree made me wonder why I'd never sought out celeriac before.
Hawkes Bay artist Freeman White had a few paintings on display. Freeman has had international residencies in Edinburgh, at the Staffelter Hoff winery in the Mosel Valley in Germany and has twice been invited to exhibit in the German "REAL International Symposium for Figurative Art". He was also voted Wellington's Top Artist in 2010. He explained to everyone how the game birds painted in rich detail had not died in vain – describing the meal and accompanying wine each painted bird eventually became part of.
The penultimate course consisted of Confit Leg of Duck, Heirloom Beetroot, Jerusalem Artichoke, Hazelnut and Mustard, paired with the full-bodied Reserve Syrah 2010. The meat was so tender it practically leapt off the bone and onto my fork. The rich and earthy combination of flavours and textures contrasted perfectly with the sharpness of the mustard, which dissolved like icing sugar on the tongue and woke up the palate.
And finally; the dessert. Oh the dessert. Rhubarb and Apple Mille-Fueille with Salted Caramel and Rhubarb Cream. There is not much in this world that I love more than salted caramel and this was some of the best I've tasted – thick, properly salty and full of toffee goodness. The wee balls of crisp apple, coupled with rhubarb and layers of wafers were, with their tart, light flavours, an ideal follow up to the game courses. The photo does not do it anything close to justice.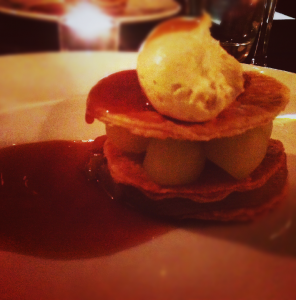 We feel the night was a great success – everyone at the tables around us seemed to be having a grand old time, aided by the excellent service. Hat tip to the person in charge of our table, who was jovial, knowledgeable, and made sure our wine glasses were never empty. Finally we'd like to thank Pravda for hosting us, it really was a fantastic evening.
We'll be keeping an eye on Pravda's website and Facebook for future events – there were whisperings of a seafood themed dinner as we left