Reasons to be cheerful
Wellington may be in the economic doldrums, with some prominent recent closures in the hospitality sector (some lamented, such as La Metropolitain; others less so, such as The Big Kumara), but plenty of new places are opening too. Yesterday I slobbered all over Big Bad Wolf, but here's a quick summary of some other openings.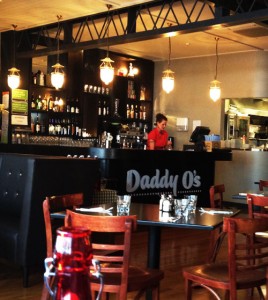 Daddy O's may have a cursed location (the former Harem/Voodoo) and a silly name, but it has a lot going for it. This diner and swing venue (just the dance, unfortunately) generally avoids an American Graffiti nostalgia-fest, and the menu has some interesting items along with the usual burgers, steaks and pizzas. The pulled duck is ridiculously succulent, and hash browns get a kick with caramelised onions and smoked paprika. There's some confusion about whether they'll be BYO on certain weeknights, but the craft beer selection is impressive, and their milkshakes are superb: alcoholic Tiramisu milkshake, anyone?
We Wellingtonistas have been hankering after a 24-hour diner for a while, but unfortunately neither Daddy O's nor Drexels aim for the late-late crowd. The latter is a Christchurch institution that introduced a bewildered population to the radical idea of going out for breakfast, and the new Wellington branch keeps the breakfast focus by closing at 2pm. By all accounts it's an efficient pancake-delivery system, and while it will never fill the special place in my liver that was Rumble's, it seems to suit the Waring Taylor St location.
The waterfront has seen the replacement of a few struggling ventures with new businesses. Chalk and East Square recently took over a couple of troublesome Chaffers Dock tenancies. The former seems to be trying to bring a touch of Te Aro coffee-geekery to the harbour, but while the food and coffee are definitely pleasant, it doesn't yet exhibit much of a point of difference (apart from the view). East Square mixes a variety of Southeast Asian cuisines at a moderate price point, which could be a refreshing change among waterfront eateries, but I'm yet to hear any reports on its quality.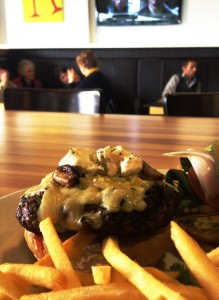 The long-standing Latitude 41 at Queens Wharf has been replaced by Bin 44, which moves towards being more of a bar than a café. The decor is clean and comfortable but a little generic, and the menu is generally familiar upmarket pub grub, albeit with some nice touches (three cheese topping on their burgers? You had me at "cheese"). It's great to see another new place with a good selection of craft beer, but the cocktail list ought to be reported to the Martini Police for crimes against language and mixology: the "Womanizer Martini", made of bubbles, vanilla vodka and OJ? That's all kinds of wrong.
Muse on Allen slipped in fairly quietly, replacing Satay Kampong with something decidedly more upmarket. I haven't been, but the menu looks delicious, if not entirely groundbreaking. If anyone's tried dishes such as Sous-vide beef fillet with cashew purée and duck liver mousse, or Pork shoulder with confit potato and black pudding, we'd love to know what it's like.
At the other end of the price spectrum, the new wavy-verandahed restaurant cluster on Tory St is gradually filling up. Singapura and Thai on Tory both seem like very basic examples of their types, though it's worth noting that the latter has some extra-cheap prices while they await their liquor license. Although the adjacent fish & chips shop is not quite open (at the time of writing), their delivery option sounds like something to anticipate, and it's part of a neo-chippie trend that includes a slight revamp to the struggling SoHo café on Taranaki St.
While neither Singapura nor Thai on Tory seem likely to excite the jaded palate of David Burton, the new Tiger restaurant and karaoke bar (not online, as far as I know) around the corner in Holland St might do the trick. Adventurous diners (from a Eurocentric perspective, at least) might want to try dishes such as Tea-scented chicken gristle, Beaf heart and tripe in chilli sauce or Stir-fried chopped entrails of sheep. Others might stick with orange beef and getting stuck into the soju before singing Eighties power ballads at inadvisable volumes. You know who you are.
Intriguing Asian treats are also in store at I Adore, the tiny shop with the huge multi-coloured sign in Ghuznee St. Among the colourful sweets, ice-cream sprinkles and teas, there are bins of dried fish and chicken feet to tempt or appal. In nearby Cuba St the latest additions are a bit more conventionally Western. Ka Pai signals the expansion of local chains into Cuba Mall, to be continued when Wholly Bagels opens in the old Chicago menswear shop. Lullaby of Birdland, a couple of blocks up near Vivian St, achieves some sort of Cuba St bingo: Whitewashed exposed brick! Cupcakes! Vintage streetwear! Coffee! Six Barrel Soda and Foxton Fizz!
Last but definitely not least, because it doesn't need our help to be a raging success, is Flight Coffee's Hangar on Dixon St. They've converted a grim old service dock into a combination of factory and temple to the sacred bean, and its opening brought Instagram to a grinding halt* as well as sparking a debate about why anyone would spend $9 on a cup of coffee. The answer: because it's freaking delicious.
*probably