A benefit auction for Phil Jacobs
A few years ago my son's point-&-shoot needed a simple repair. I realised I had no idea where to go to get cameras fixed. Were there even camera-repairers any more? When they break, don't you just buy another camera?
A friend said "Oh, there's that guy on Jackson Street – he fixes everything".
"That guy" was Phil Jacobs, and he runs his camera repair business from home in Petone. When we came to drop the camera off, Phil took us into his workshop, and I immediately knew we were in good hands: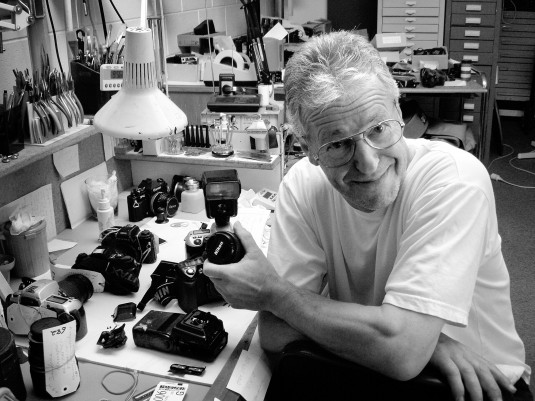 Of course, it turns out Phil is a legend in the photographic community. He has been repairing cameras for 40 years, and, as Wellington photographer James Gilberd puts it:
"Almost every photographer who has worked in this city has used his services at some time or another, and in an indirect but important way he has made a significant contribution to photography as an art form, a business, and a means of personal and social expression."
Sadly, Phil is now terminally ill, and – unable to work, or support his family, including his elderly parents – is under major financial pressure.
So James, together with fellow photographers Mark Beehre and John Williams, has organised a benefit auction to raise funds. The auction includes works by both established and emerging photographers and will be held on Friday 30th November, in The Pit at Te Ara Hihiko, Massey University's brand new Art and Design School building. Everybody is welcome, and there will be photographs to suit all pockets. As James says:
"Whether you're a serious collector or someone who's never bought a photograph as a piece of artwork before, there'll be something here for you. Massey University have graciously provided us with a superb venue and we're looking forward to a very successful event."
There will be a preview event at Photospace Gallery, 5pm on Monday 26 November, with viewing continuing there until 4pm Thursday.
The event at The Pit on Friday starts with drinks & entertainment at 6, and the auction itself kicks off at 7.
More info at www.philjacobsbenefit.org