The cupboards are bare
here's a sneak peek into the food bank shelves at DCM this afternoon – empty!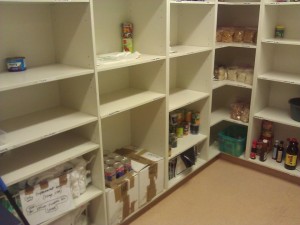 As we know from Game ofThrones, winter is coming. So this weekend If you're planning to visit Chaffers New World, please buy a couple extra items and pop then in DCM's foodbank bins at the exit.
Things like tuna and tinned stews are particularly welcome.
Also donations of food items to DCM are welcome anytime at DCM located at Compassion House, Lukes Lane.
Or if you don't want to leave your computer screen just donate over at give a little.
In helping people and having fun news Bookfair dates have been set
Mark the 17th and 18th of August in your diaries
if you'd like to volunteer your time on the day or for pre fair book sorting phone 04 384 7699