A boat, a beer and a duck
This week's foodie musings take me back to Wednesday's 2-4-1 dinner at the Boat Café, nibbles and drinks at The Hop Garden, and a Le Canard roast duck from the Harbourside Market.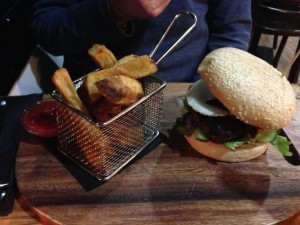 The Boat Café harbours (yeah, yeah groan!) fond memories of the original Parade Café, a place of worship for many. The food remains well presented, good value, and satisfying (the fries definitely worthy), and the staff welcoming.  And the views are probably only rivalled by 180 upstairs at the Copthorne.
Although I'm assured the same management exists, the food has seemed slightly more refined and varied in recent times, including my pan-fried groper on Wednesday.  Maybe some new hands in the kitchen?  Whatever it is, go the Boat crew. And don't miss the Wednesday 2-4-1 dinners.
Saturday saw a meeting of friends (old and new) at The Hop Garden for tapas and drinks.  A pleasant light flavoured Te Mata pilsner made its way into my glass to complement tasty treats like warm goats cheese and aubergine fritters with house piccalilli and chive oil, pork belly with apple relish, mini Cajun-spiced drumsticks… salivating yet?
It's such a relaxed and pleasant atmosphere under the glass and grapevines.  But sshhh, don't tell too many people.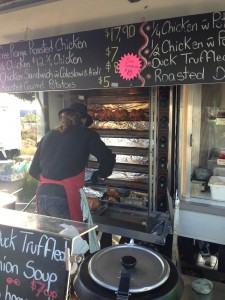 And lastly, I've been hankering after a Le Canard roast duck for some time (sad I know), and recently found a collection of tasty leftover duck recipes in a magazine, so it was all on for young and old.
Warm duck and chutney rolls for lunch yesterday, duck noodle soup for dinner tonight and quick duck and mushroom risotto for dinner tomorrow.  Yummo (technical word).
Duck is a tough one to get right, but other than duckie and I having a wee tussle over some of the inner pieces close to the bone, the meat was reasonably tender without being over-fatty.  Well-played Le Canard.  See their website for the daily locations of their La Rotisserie du Canard truck.