And so it begins…
Like Joanna, I have a list of foodie delights to drool my way through over for the next couple of weeks courtesy of WOAP (although not as organised as that spreadsheet of hers!).
Saturday commenced the frolic with a Whisky Breakfast at Arthurs.  Four breakfast courses with four whiskys (in the food and accompanying); it was always going to be downhill (uphill?) from there.
In the interests of not being a spoiler for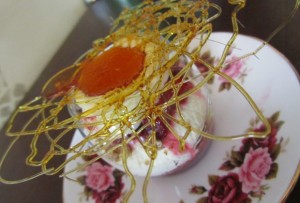 anyone still to attend, I'll just say here that my favourite whiskys were one and three and favourite courses three and four.  If you want to read more about it, you can zip across here to my personal foodie blog (the picture at right a teaser from the WOAP Whisky Breakfast promo).
Some of the other delights I'm anticipating include a burger or two (Hummingbird crayfish, Zico salmon flatbread, Artisan mini-sliders, Portlander wagyu), a dining offering or two (Ti Kouka brunch, Muse dinner), an event or two (Pecha Kucha, Oh La La French Chocolat, Kakapo and Kai at Zealandia, Haute Cuisine du Terroir at Le Cordon Bleu), and some vicarious living for all the fab events I couldn't get to (Wakelin House foragers dinner, Bitchinheat)…
Followed by a week or two of bread and water to recover!
Aside from that, the other new place you might be interested in is Canteen in Bond Street.
This is a venture by Mabel and Mack of the spicy sauces at the City Market (aka The Baker Boy Roy McFarlane), with a current format of Monday to Saturday breakfasts, lunches and delicious baking, and evenings to come once the liquor licence is in place.  Maybe also family Sunday roast lunches once things are settled in.
Crisp and enticing décor, a little old world charm,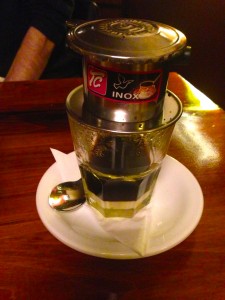 good food, and welcoming staff; off to a good start then.  Definitely one to check out if you're in the neighbourhood (and if you're going to a Kirks WOAP event, you'll get to try the Mabel and Mack sauces there too).
And to finish this week, a picture of Vietnamese coffee at Restaurant 88.  Just because.
Enjoy WOAP.