Chocolate, chocolate and mama love
I have to talk mostly about chocolate this week.
What with the New Zealand chocolate festival next weekend (Friday 5th to Sunday 7th), and Amora's chocolate buffet over the following two weeks, it'd be rude not to.
Unfortunately I can't get to this year's New Zealand chocolate festival, but I am SO going next year.  I've seen the amazing show pieces George from Bohemein has made for past events and can only imagine that spending four hours indulging in all things chocolate must be like a little (chocolatey) slice of heaven.
Check out their website for festival information and ticket purchases (Saturday and Sunday sessions selling fast).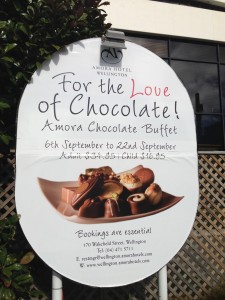 And for those who can't make the festival, or who just want to see where their chocolate limits lie, Amora Hotel is again doing their chocolate buffet from 6th to 22nd September.
Now this I have done previously and can claim the family crown for going the distance (even against sweet-toothed teenagers I might add – they're so much noise!).  It's all in the pacing and having a good non-chocolatey foundation breakfast (or lunch depending on what session you aim for) to line one's stomach in preparation.
Whether you're a savoury or sweet fan, or a white or dark lover, there's plenty here to tempt all eaters.  And for $34.95 per adult and $16.95 per child, that's a definite coupla hours of fun.
Daily from 5.30pm or 7pm, or Saturday/Sunday family friendly sessions from 2-4pm.
And lastly, for the American fans out there, another American diner available to you on the corner of Wakefield and Tory – Mama Brown's.
Serving South American and Mexican food, the décor, tableware and music all add up to fun, with the food down home and satisfying.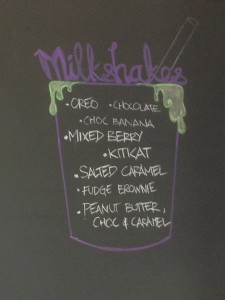 A breakfast/brunch menu with some interesting and different dishes (almond stuffed French toast with cherry salsita, bacon and egg sammie between American biscuits) and lunches including tacos, sliders, burritos etc.
I noted interesting milkshake flavours (peanut butter, kitkat, salted caramel), and a doorstopper fudgey chocolate brownie on the counter (yep its all about chocolate this week), so am sure my feet will wind back this way at some point in the near future.
There'll be a hiatus from me next week while I check out Melbourne's offerings, but I'll be back the week after, and one of the other Wellingtonista's is going to the chocolate festival so will no doubt fill you in.  Happy chocolating!