A new bru, whisky scones and L'Affaire au Chocolat
The old Fringe Bar on the corner of Vivian and Cuba has morphed into Bru on Cuba.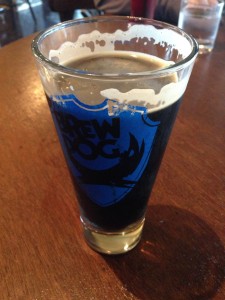 Calling it a craft beer bar would be a bit of an overstatement (albeit pleasant enough with dark wood decor and leather couches), it places comfortably in the chill out/sports bar space, with Boundary Road and Scottish Brew Dog their main beers on tap (are we there yet with all the 'dog' craft beers?).
The Brew Dog Dogma heather infused scotch ale was actually rather pleasant, a little creamy and without any bitter aftertaste often found in the dark beers and stouts (for this kid anyway) with Sir Google telling me it was a blend of malts and hops, including chocolate brown and dark chocolate varieties.  Sir Google ran aground at the Boundary Road site though with a somewhat unfathomable entry for over 18s (check it out here if you fancy a challenge!).
Saturday saw an enticing sign outside Jimmy's (the café in the St James Theatre) – WOW whisky scones with Chantilly cream.  I confess to being a WOW supporter and scone enjoyer, and have recently discovered Scottish whiskys (thanks Arthurs!), so who could turn down that combination.  I always enjoy sitting in the tranquility of the theatre foyer and imagining all the events and outfits and people who have passed through, and neither disappointed on this occasion.  A delicious whisky backnote to the scone, enhanced rather nicley by the dollop of Chantilly cream, and a quiet chuckle over Peta's weekend column. Nice.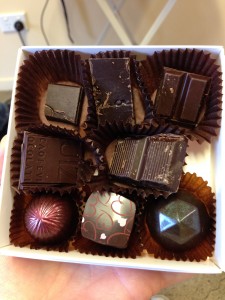 And back to chocolate.  I finally got to the earthquake-interrupted WOAP Oh La La, French Chocolat event tonight (boy am I getting good value from WOAP this year!).
Jo at L'Affaire au Chocolat gave us a personal chocolate education, with so many tastings and gifts to take away that even this white chocolate lover (heathen, yes I know) went away with an improved appreciation of dark chocolate.
Her truffles are just truly beautiful, and she also specializes in the importation of top quality bars of French and Madagascan chocolate (to name a few).  Now that I have been to her Berhampore shop, I shall definitely be back for more.  Thanks Jo!