'Nothing to be Done' but laugh
Comedian Luwita Hana Randhawa does look a little serious below. She looks like someone who probably doesn't take a lot of nonsense. Someone who would handle a heckler with a dry, sassy quip that would leave everyone wishing they'd thought of such a line, because everyone has those "If only I'd said that" moments. I bet even the foolish heckler would appreciate the way that they'd been knocked down a peg or two.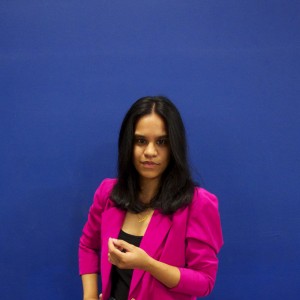 That, of course, is not an invitation to heckle Luwita when you go and see her Fringe Festival show, Nothing to be Done, which is on at Fringe Bar on Allen street for 3 nights only, Feb 19-21st.
Luwita is practically a local – she attended Victoria university for three years and prefers her coffee in a Peoples Coffee cup. This means that, despite declaring herself as 'made in England, raised in South Africa and Brazil, and from Kuala Lumpur b*tch(WARNING: there's coarse language in that wee clip, for those that don't appreciate comedians with a dose of 'adult' language), we as Wellingtonians can do what all New Zealand media do and make this about us.
Luwita is one of a few young, female comics on the rise in the Malaysian scene and in fact is the first Malaysian to perform at the New Zealand Fringe Festival, that's obviously all thanks to Victoria University and Wellington and probably even the people of the region! Nice work us!
Luwita describes her show 'Nothing to be Done' as "The collected musings and broodings of a twenty-something former international student of Wellington. Half dry, half sassy and mostly funny. Thumbs up." When prompted she also described herself as 'probably Ray from Girls' so I'm not sure where that 'Thumbs up" confidence comes from. I assume, as one anecdote goes, that after sitting down to eat some delicious fried rice in a food court only to have the lights go out and then being able to perform a stand up comedy routine, like it ain't no thing, gives you an innate ability to step up to what is thrown at you. These interesting events and how Luwita deals with them provide plenty of scope for her show where she tends to poke fun at herself and her life.
With a show trailer like THIS how can you not be intrigued enough to get booking tickets right now.
AND if $15 is too much for you to fork out for 45 minutes of comedy then you're in luck. We have two double passes to give away! Just leave a coherent, polite comment below and we'll draw two lucky winners! You have from now until 12 pm Monday 17th to get your name in the hat.