Fringe Festival 2014 – Brooks & Brown in Literally Anything
We sent along intrepid theatre goer and Yarn Celebrity  Tash Barneveld to check out a new Fringe Show by Brooks & Brown.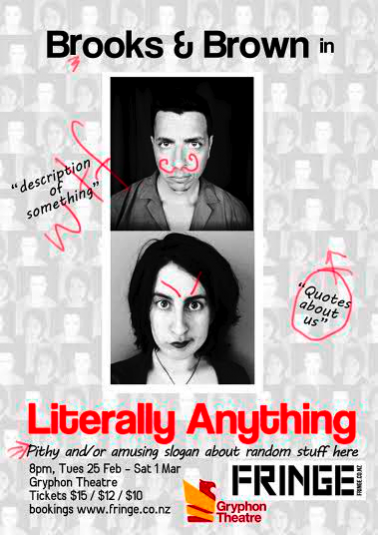 He's what she thought.
'Brooks & Brown are a brand new transTasman duo who have no idea what their show is going to be about.'
Christine Brooks and Rik Brown have worked together only once before, at the 2013 NZ Improvisation Festival. Literally Anything brings Brown over from Melbourne to join Wellington-based Brooks for the 5 night season at Gryphon Theatre.
The blurb says they have no idea what will happen. Don't let that put you off: Literally Anything has structure and cleverly flicks back and forth between characters and scenarios.
Once the duo get rolling, it's an almost-hour of light and fun entertainment with a wonderful lack of cheap toilet/sex/swearing jokes (hooray!). Opening night saw everything from chickens to boxing to terribly awesome (or awesomely terrible) Scottish accents.
With any improv, each night promises to be different. Regardless of what Brooks and Brown cover, you're guaranteed to be taken on a surprise ride with a couple of friends who clearly have a great time on stage together. Endearing and, importantly, funny.
Literally Anything runs till March 1st at Gryphon theatre
Show starts at 8pm and you can find out more info and buy tickets here
if you've got a show on at the fringe and would like us to write about it flick us a line and we'll send someone out to check out the show.