Power Plant percussion…
Interesting that my reflective sense of the music looking back is percussion, but there are quite a lot of little things banging or rubbing on other things to create unusual and interesting sounds.
Power Plant is a night-time walk through the Botanic Gardens on a one-way circuit starting and finishing at the lookout beside the Cable Car Museum.  All the way along the walk are light and sound fixtures which nearly all make you look closer to see just how they're done, but because we were briefed at the start that there is to be no photography I can't reveal any secrets here.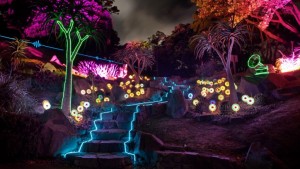 You are set off in groups of 10ish at 10 minute intervals to ensure no-one is on top of anyone else throughout the circuit (which works well), and the whole circuit takes about an hour (unless one wants to take advantage of the food and drinks for sale on the grass by the sound shell and park up there for a while, in which case you could stretch it to 90 minutes).  There are people in the dark all the way along to point you in the right direction, and all other side-paths are roped or blocked off so you can't deviate (the odd dark body appearing in the side vision also ensured the heart was pumping adequately).
My favourites were a foggy tunnel with weird 3D perception of what you're walking through, a display at the bottom in the duck pond that made me think of tribal council on one of those island reality shows, and the small paddock of whirling flowers on the way back up that made me think whirling dervishes. 
So definitely worth the $30 as a oncer, and do wear warm clothing (it was darned cold and precipitous on Friday night) and comfortable walking shoes for being up and down dale.
Until 16 March.  Tickets available via Ticketek (there's also a Ticketek booth at the top of the Cable Car for the duration).