Crafters brew corner
How to make a silk purse out of a sow's ear?  That was the question for the brothers who own the building just off the corner of Victoria and Vivian when their former tenants' venture to open a bakery/café dissolved.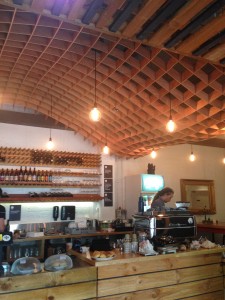 So in true kiwi fashion, they decided they'd better jump in themselves and do something with it. And so Crafters & Co was born – a café/bar/off licence (an interesting move to be an off licence also).
They're operating under a 'soft' launch at the moment (ergo still finalising a few bits and pieces) ahead of a formal launch in the next couple of weeks.  But the décor looks pretty complete now (check out the swooping wooden ceiling – the only inherited fit out) there's some interesting family heirlooms and artefacts (including great great granddad on the wall), they had decaf coffee (many don't in the beginning) and there was a decent range of morning foods to go with it (a nicely warmed pear and ginger cake with a thimble of yoghurt).  And most importantly (unlike many others around town) they've opened with their liquor licence in place.
So all in all, despite being on a busy road, and still being developed, it felt rather like sitting in a peaceful country garden. Nice.
The evening nibbles are still to be ironed out (likely simple bar food plates and platters as the main commercial kitchen has been leased to the new venture next door – see below), the opening hours are yet to be firmed up (currently 8am til midnight x 7 days) and you might soon see some real hops growing by the walk-in chiller (interesting).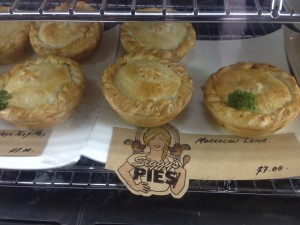 Spencer brings some catering and hospo background, and his brother operates the rear of the business alongside real estate activities. These boys are focused on local products, and easily spotted were Panhead, Tuatara and Parrotdog beers, Six Barrel sodas, Wellington Chocolate Factory bars, Karamu coffee from Eastbourne (best made flat white I've had in ages thanks guys) and Siggy's pies from Waikanae (and they looked mighty fine too for a future excursion).
There's a rumour of some pretty good baps and bagels here and possibly a bacon and egg stack or two as well.
Right next door will be The Occasional Brewer, a beer brewing school, also due to open over the coming weeks. Check out the teaser on their facebook page (1 May post) which suggests you can brew, name and design a logo for your very own beer (hmmm, Heathers hooch maybe….).
A corner of the city to watch I think. I'll be back for a pie and a pint, and good luck to the lads in the making of a silk purse.