Annie
The last live musical I saw was Jesus Christ Superstar in about 1990,  to be honest I'm not your average musical reviewer. However, I do regard myself as a bit of an Annie expert because it played the very important role of being the movie I went to for my 10th birthday.
Annie was in fact a bit of a Big Deal. It was at the lovely St James theatre and the place was heaving with people on Saturday night. Loads of gorgeous wee tots dressed up to the nines. As the band played the opening medley the thrill of being there had my kids completely blissed out and beaming.
Annie was played by Amelia Walshe – Hutt represent! She kicked off the show with Maybe. This was followed by the orphans performing The Hard Knock Life. It was wonderful, such a talented crew of girls clearly having a blast.
Su Pollard played the role of Miss Hannigan. I feel like somewhat of a Su Pollard expert having watched Hi de Hi religiously, and it was difficult for me to imagine her in the boozy, slightly awkward role of Miss Hannigan, but she owned it. She has a belting great voice and her physical presence filled the stage.  Mig Ayesa of Inxs Rockstar fame (really) played Rooster (which is my other favourite Annie character). He had the moves, but it would've been good to see a bit more of him. His role was pretty brief.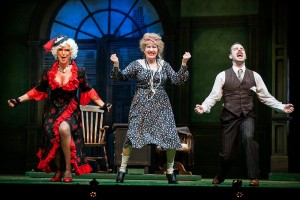 The set design blew my mind (I'm not doing a very good job of keeping my cool, am I?). There was a car, a tram, a giant staircase and the lights of New York.
Really, if you have some small people, or a love of Annie, this is worth a trip. Mind you, I cry watching flash mobs, so bear that in mind.