Queen's Birthday Craft Weekend
Handmade has pretty much established Wellington as the place for crafty & makey types from across the country to hang out  this weekend. There are classes, lectures, tastings, exhibitions & a pop-up shop. This year is that the majority of it is taking place in one spot, the TSB Bank Arena and Shed 6. which makes it a lot easier to plan a weekend of making.
Back again is my highlight of every Handmade, the Holland Road Knit lounge – a cosy crafty home away from home curated by  Wellington's Yarn Queen Tash Barneveld . This year the lounge and the area around it is free to visit, so you can pop in any time over the weekend. You'll discover a lots of yarn, loads of expert advice and four of the biggest knitting needles in the  country!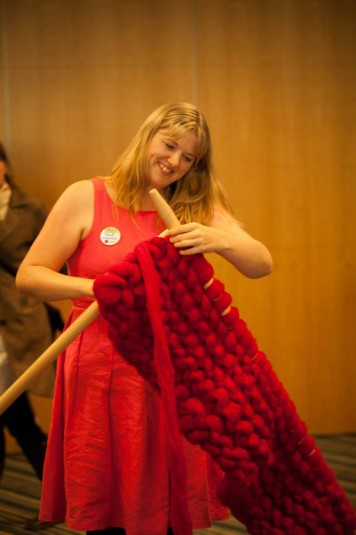 But the core of handmade is the classes. This year they've ramped up the variety a little more (which is always good) so on offer are classes as diverse as Illustration for beginners,  3D Printing, Hand Carved Stamps, Drop Spindle Spinning & Raw Food Baking.
Make your own hanging terrarium class with the wonderful Kate Setz looks fun. Kate used to be a staple stallholder at Craft2.0 – so you know that means craft awesomeness. I know from experience DIY terrariums have a tendency to grow mould not plants, so I'm a bit excited about leaning how to not make that happen. I like the idea of hanging plants in my window.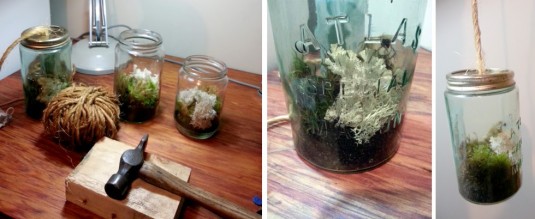 Or join Angela Young from Craft Me Up where she'll be  sharing the secrets of how to make your own Confetti drop earrings and rings using Fimo. Angela's the expert at super cute super happy creation so it's going to be a class where you walk away with some great creations and a smile on your face.
So see you at Handmade, and if that hasn't tempted you maybe the Tasting Station will – Ruth Pretty is the mastermind behind this one so it's bound to be delicious.