Hats off…
To Logan Brown (2 hats), Ortega Fish Shack, The Larder, Charley Noble and Taylors on Jackson (1 hat each) – Logan Brown being the only non-Auckland restaurant to be awarded 2 hats in 2014 (rating alongside Baduzzi and The Grill by Sean Connolly, and just one point below Masu and Kazuya). Well done Wellington!
Now what's this hat business I hear you say?  You're definitely not alone in feeling a bit unhatted…
The Australian Good Food and Travel Guide (AGFG) developed the hat rating system in 1977 to reward exceptional chefs. According to their website, hats are awarded for the food alone based on the French Michelin model of rating, and by anonymous experts dining (and paying) a'la'normal customers.
The extension into NZ over the last two years appears to allocate points slightly differently across food, service and ambience (see a much clearer version of the below on the Cuisine Good Food Guide). I understand the judges (still anonymous a'la'normal customers) start at the maximum points in each category and then deduct half marks for each 'fault'.
Apparently a perfect score has never been awarded in the history of the hat system, and very few near perfect scores, so it appears to have some rigour.
The intention is to have a system that provides some reference of quality dining experiences, so it will be interesting to see how this system is taken up over coming years.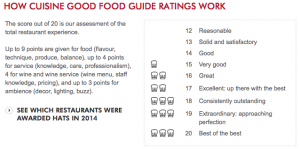 It also got me thinking about how easily we tend to forget about long-standing restaurants like Logan Brown as we rush from new establishment to new establishment given they're so set in our psyche that we just assume they'll always be there. But they just may not if they don't get support (witness Martin Bosley's end and the Whitehouse opening with a new [probably less formal] concept at Clyde Quay around October).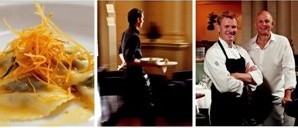 So if we want to retain some (any?) places of this caliber in Wellington, maybe we all need to give them another look. There are often options that'll give you a good taste of their quality without breaking the bank, in the case of LB $49.59pp pre-theatre 3-course meal as long as out at 7.30pm, $35 Saturday high teas or a gustatory experience for a fixed price up front that might not end up being all that much more than having 5 tapas somewhere else at $15+ each ($95 five-course or $125 seven-course Saturday night degustation).
So how about it Wellington, do we want to support a few of the good high end places as well as the new and exciting?