Bring Back Kate – March on Monday
On average the National Collective of Independent Women's Refuges receive one call for help every nine minutes. From July 2013 to June 2014 the Shakti national crisis line service exceeded 10,000 calls.
Bring Back Kate is Women's Refuge's latest call to action on domestic violence in New Zealand. In 1893 Kate Shepherd and a band of dedicated suffragettes compiled 32,000 signatures on a huge roll of wallpaper, demanding women get the vote. When she delivered it to parliament, it was unrolled across the chamber and the politicians of the day were persuaded to make New Zealand the first country in the world to recognise women's right to a political voice.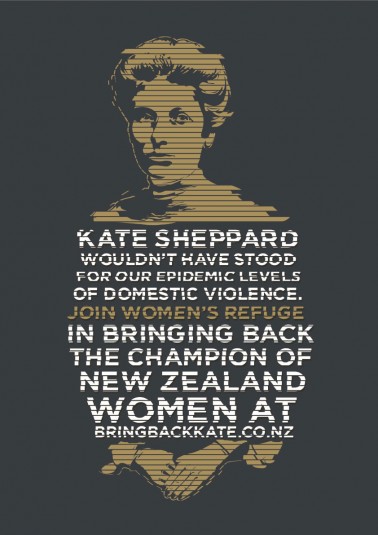 Women's Refuge is bringing Kate Sheppard back to the steps of Parliament this Monday, September 15th, as a 3D sculpture bearing the names of everyone who refuses to tolerate violence against women and children.
Join members of the National Collective of Independent Women's Refuges, Shakti, Relationships Aotearoa, TOAH-NNEST, National Network of Stopping Violence Services, Aotearoa New Zealand Association of Supervised Contact Services and the Pacific Island Safety Prevention Project Inc, along with hundreds of supporters, to Bring Back Kate and March on Monday 15th September from Civic Square all the way to Parliament to have your voice heard.
Meet at Civic Square from 11.30 am on Monday 15th of September, or on the steps of Parliament at 12.40 pm.