Victoria, What Do We Want From You?
Saturday is your last opportunity to make your voice heard on the future of…no, I'm not talking about the elections, but about something more specific to Wellington. In a very condensed consultation process, WCC is seeking your input on the proposed transformation of three blocks Victoria St, between Dixon and Abel Smith streets.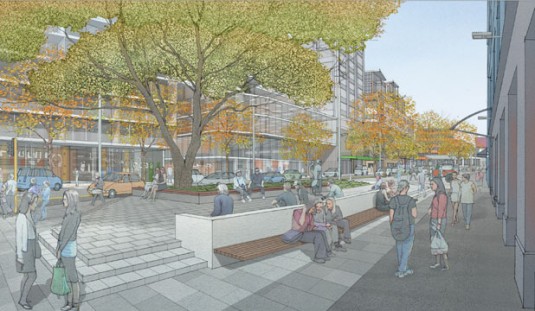 And that would be where I would link to the official consultation documents, except there aren't any. Officially, the consultation takes the form of "community open days" this week, and by open "days" they mean 2- to 4-hour sessions. The only remaining times to see the full-sized plans and talk to the project team are 5-7pm tonight, 12-2pm tomorrow, and 10am-2pm on Saturday. And then Saturday is the deadline for feedback. What's more, the project information space is nowhere near Victoria St, but on the corner of Taranaki and Buckle St.
Why's that? Because the Council is collaborating with the Memorial Park Alliance to design and construct the project, so they're using the Park's project office for the displays. The collaboration should provide expertise and resources to ensure that more gets done than if the Council did it on their own, but it also means that the time frames are ridiculously tight, apparently driven by arbitrary deadlines such as ends of financial years. While plans to improve Victoria St were signalled and consulted on as part of the wider Wellington 2040 and Central City Framework studies, and the project was announced and discussed last month (see articles on Stuff and Scoop), there's now a much more detailed and definitive concept plan which the public get only a week to digest and discuss.
That's if they get to see it. Apparently, there was not enough time to put the brochure on the WCC web site, and it would've been inappropriate to put it on the Memorial Park Alliance site, since it's hosted by NZTA and this isn't a NZTA project. So you have to go and find a hard copy. Luckily the Cycling Advocates' Network have already posted a scanned version of the brochure, and since that's the only way to see an actual plans, I've posted the plans as an image below. Because it's 2014, and the right way to consult in a digital age is to make people schlep up to Buckle St or rely on scanned versions of a print brochure.


It's hard to see at this scale (click for a larger version), and there's nothing to show where the kerb lines are changing, but here are the points that stand out for me:
Volunteer Corner will be reconfigured to make it more accessible, and to remove the stupid narrow strip between the planters and parked cars.
The slip lane beside the Left Bank western entrance will be reconfigured, creating some new pedestrian space. Angle parking will remain between Left Bank and Ghuznee St, but there's potential for further redevelopment on that site.
The east side between Ghuznee and Vivian streets will be substantially altered, with the slip lane and parking at the south end being turned into a new public space. This seems like an odd place for one at the moment, but there's a resource consent for 300 new apartments on the market site, so this could become a much more populated part of town in the medium term.
While the plans show a southbound cycle lane for the northernmost block, the Cycling Advocates' Network aren't happy with the lack of proper, protected cycle lanes.
Overall, there will be wider footpaths, more street trees and what looks like much higher quality materials than WCC can usually afford.
Approximately 30 car parks will go overall, to allow for the improved public spaces.
In general, these are some really positive changes. Combined with private developments that could bring over a thousand new residents and a new creative campus to these few blocks, this could truly transform a messy, vehicle-oriented, poor excuse for a street into a lively and pleasant part of the city. It even mitigates some of the awful, pedestrian-hostile changes that NZTA have been stealthily inflicting on this part of Te Aro. But is it good enough? Personally, I'm going to suggest the following:
Consider a pedestrian crossing halfway between Dixon and Ghuznee streets, to connect the Left Bank with the pedestrian laneway that's proposed as part of the redevelopment of the Gordon Harris and Warehouse Stationery sites.
Look carefully at the phasing of lights. These have been adjusted in favour of cars over the last few years, making some of the intersections much more frustrating and dangerous for pedestrians, and that balance needs to change.
While it's good to make public spaces more usable for people, it would be a shame to lose some of the well-established trees. Make sure that the best of existing vegetation is retained and incorporated into the new streetscape.
I encourage you to make the most of the ridiculously limited time frame, and help make the future Victoria St as good as it possibly can be. Maybe you could combine a trip to the polling booth with some time at the project display, which is at 175 Taranaki St, then email info@memorialpark.co.nz to let them know what you think.