Without literature, life is hell!
This Saturday a large number of spots in Wellington are taking part in a pub crawl but without the pubs. And with literature instead. A LitCrawl if you will!
Actually that's a slight lie. There are not only three pubs involved (Hashigo Zake, Meow and Little Beer Quarter) but there's a Writers' Beer as well. Nine NZ poets adorn bottles of beer brewed by Mussel Inn.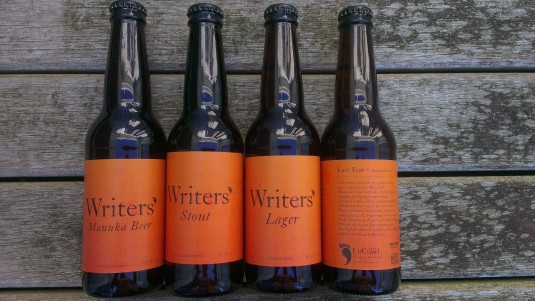 James Brown, Doc Drumheller and Emma Barnes all have their poems on the Writers' Lager.
Max Chapnick, Helen Rickerby, Damien Wilkins, Ines Almeida, Airini Beautrais adorn the Writer's Manuka Beer bottles.
And Chris Price is the sole poet to be published on the Writers' Stout.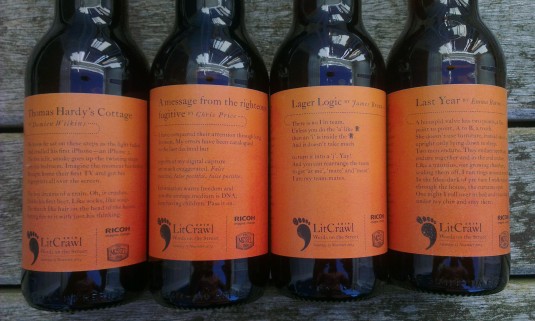 There are a 14 events taking place throughout the city between 6 & 9:15pm on Saturday at a range of venues including the aforementioned bars, The City Gallery, Six Barrel Soda, Wellington Chocolate Factory, Ferret Books & Arty Bees AND it's gold coin entry to all of these events.
The Writers' Manuka Beer is for sale at Meow so why not head along to Off the Page @ Meow and experience performance poets from home and away "spill words, music, truth, fiction, songs and dirty politics", including Captain Houndstooth who won the Wellington regional final of the NZ Poetry Slam.
If that is not exciting enough, or you can't do Saturday Evening, then there's the Elevenses sessions @ 11am on Saturday, which include Monumental Crawl – taking a walk through the city with Dr Mark Stocker a Curator of Historical International Art at Te Papa, and Kahini – a conversation with Marco Sonzogni, an award-winning editor, poet and literary translator, on the gift of translation. AND both of these events are free (with a chance to make a donation)
There's also the awesome Women of Letters event at San Fran on Sunday night. A line-up of New Zealand women have been invited to write on the theme of 'Letter to my unanswered question' and will read their letters aloud in front of you. The women writing and speaking are:
Artistic Director of the NZ Festival SHELAGH MAGADZA
Playwright, theatre director and performer JO RANDERSON
Actress and director NANCY BRUNNING
Journalist, broadcaster and former politician PAM CORKERY
Comedienne, poet and actor PENNY ASHTON
Actress and playwright MIRANDA MANASIADIS
And writer and human rights advocate MARIANNE ELLIOTT
So this Saturday – get out into this fine city of ours. Drink in the beer and literature that LitCrawl has to offer because Without literature (and arguably beer), life is hell.