Long live the Long Lunch
The Mediterranean's have it right.
I went to the Logan Brown November Fresh Friday lunch club today. Sean (Clouston) decides on the dishes each week based on what's fresh and appealing at the markets and his travels and wallah! What a fantastic way to get into the weekend groove.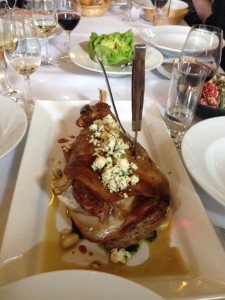 Today's courses were LB bread and gazpacho accompanied by an unusual Tono Albarino wine from the Hawkes Bay (a Spanish varietal), slow roasted Coastal Spring Lamb shoulder with foraged NZ coastal spinach (who knew we had such a thing?), other fresh salads, and strawberry tiramisu made with Billy Scott's berries from the Hawkes Bay. All accompanied by live jazz. And great company.
Sublime.
And marvelous fun carving and sharing the lamb, which was so generous in size that three of our group took home shoulder remains.
I also believe if you sneak down to the Mary Potter Hospice Strawberry Festival on 26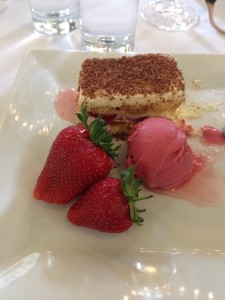 November you'll be able to get your hands on some of the strawberry tiramisu.
To be fair, the lunch itself is really only 90-ish minutes with additional post-prandial lounging time entirely at your own discretion. And there's still two Fridays left for you to start your new LL tradition with an LB experience if you desire.
Other places that I think might be the go for a LL (ergo leisurely, a bit tucked away and/or plush, sequential courses not random tapas etc):
Other tasty things I can recommend from this week:
Eat on!