The Performance Arcade 2015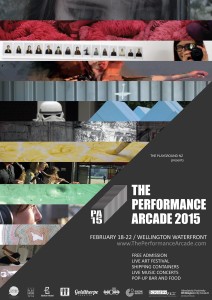 The Performance Arcade is one of those delightful yearly Wellington events that happen come rain or shine, wind or gale.
The Arcade's popped up on the waterfront every summer since 2011 and the 2015 series kicks off tonight 18th of February at 5pm.
It's running for 13 hours every day – because even artists have to sleep sometimes  – for an oh so short but very beautiful four days, finishing  February 22nd.
The Arcade exists as an architecturally arranged string of  Shipping Containers, along Wellington's Waterfront, behind Te Papa. Once the Arcade gets going  it's hard to miss the delightful convergence of  installation, performance art, sonic art, audio-visual art, interactive media, culinary art and live music. For 2015 they've created four components"
In anticipation, here's an awesome film of the pack-in by Gussie Larkin!