I spy with my little eye
With a large number of the Tuatara brewery staff being based in Wellington it does make sense for Tuatara to start something more centrally so that at least not everyone has to spend a couple of hours everyday driving to Kapiti. Think of the beer that could be brewed in that time! And there will be beer brewing!
The Third Eye, the new premises on Arthur Street, Te Aro, is named after a hatchling tuatara's parietal eye and has recently been set up by Tuatara – it's been a good few months in the making and they quietly opened their doors on Friday 20th. There's 14 taps (not all pouring Tuatara), some seating indoors and outdoors, the Goose Shack food truck will be parked up out back (practically daily) AND… there's a shiny 500 litre kit that will make beers on an almost weekly basis.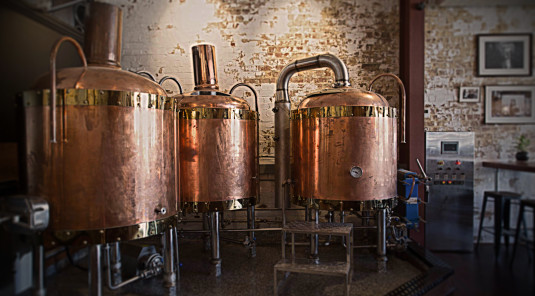 Scotty Boswell who is going to be running things at The Third Eye and who I was fortunate enough to meet up and chat with told me because the brewery will only be making 10 kegs of beer at a time the brewers using The Third Eye have the opportunity to make more experimental brews. In addition to that Tuatara "are wanting to provide brewing space, not only for already well established breweries looking for contract brewing space, which is increasing in demand, but also homebrewers who are looking at taking that next leap."
I was told there'd be beers that perhaps don't fit within an particular style but taste really good. This is awesome news! Tuatara have their standard set of beers that you can get across the country, beers that are fine examples of their respective styles and I know of a number of breweries that make fantastic beers that people love the taste of but don't win any medals because they don't fit the particular style requirements.
This desire to push the boundaries and change thinking around beer cannot be a bad thing, right? This Temple of Taste is in an old building that used to be, amongst other things, a gym, a boys school, and a brothel. Probably not at the same time. "As cheesy as it sounds we want this to be a place where you can open your mind to new thinking about beer."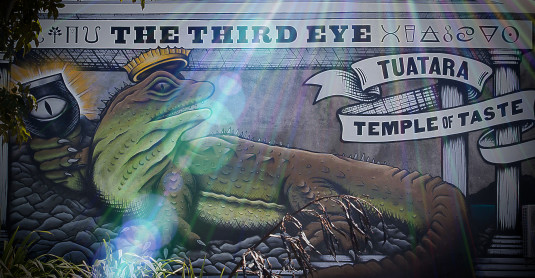 In an effort to make it seem like I was worthy of being in an establishment where deeper thought and understanding is encouraged, I mentioned a bottle of Son of God I had sitting in my fridge that I was looking forward to sampling at home.
"Son of God? What's that?"
Oh no, that's not the name of the beer I have in my fridge! "Ahhmm, sorry not Son of God but… ahhh" I flail, wanting to down my drink and run. Or just run. Or just sink into the ground.
"Act of God?"
"Yeah! That's the one!" glad that Scott could decipher my stumble. While Scott didn't know what Son of God was we both agreed it's a pretty great name for a beer. You're welcome Tuatara! That one's on me!
Scotty said that Tuatara should "Stick to our knitting. Our craft is beer." He explained that with the legal obligation to serve food the option of getting someone in to provide food appealed and the relationship with Hadyn Turner of the Goose Shack was confirmed. They'll be roosting out the back, offering a range of items with some even containing Tuatara beers.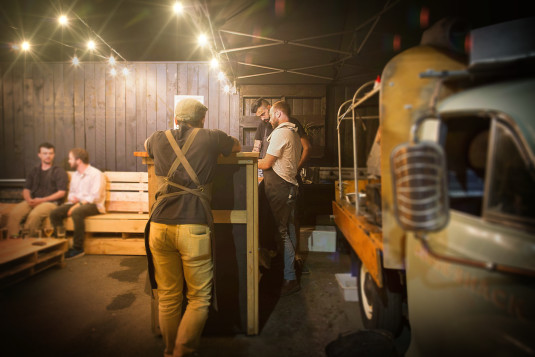 The Third Eye is a pretty exciting addition to the Wellington beer community, one that doesn't want to just be another bar or restaurant or brewery but all of the above. I think they're a welcome addition to the Aro area and I look forward to passing by for a pint, eating a sandwich and taking a rigger home for my fridge. I may even be able to pick up a Son of God one day?!