Eye opening
While Our Tim got to take a sneak peek at Tuatara's new Te Aro brewery and bar before it opened, I had the onerous task of drinking free beer representing The Wellingtonista at the official opening function. It was a suitably illustrious crowd, packed with the doyen(ne)s of Wellington's craft beer community, including the LBQ team, Shiggy tending the bar, and Stu McKinlay (who is sadly about to depart Wellington in order to get Yeastie Boys up and brewing in the UK).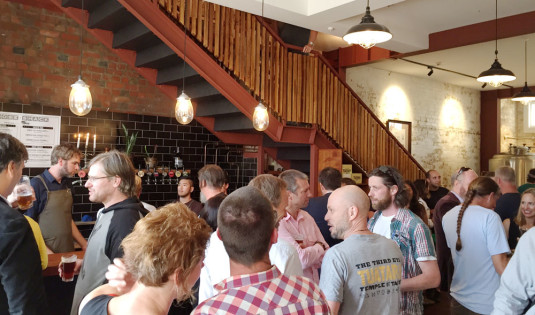 Descartes believed that the pineal gland was our "third eye", the principal seat of the soul and the elusive connexion between body and mind. Some of the bar's marketing plays on the parallels between this and the tuatara's vestigial parietal eye, with a mural featuring astrological glyphs and the tagline "Temple of Taste". It's easy to go overboard with such theosophistry, but thankfully the allusions are restrained, and the main theme is just "microbrewery and casual bar in a tastefully renovated brick building". Perhaps Bataille's philosophy, which saw the pineal gland as an organ of delirious excess, might be more appropriate given alcohol's time-honoured role in freeing humans from the shackles of prudent rationality and consciousness.
"The eye, at the summit of the skull…plays the role of a fire in a house; the head, instead of locking up life as money is locked in a safe, spends it without counting, for, at the end of this erotic metamorphosis, the head has received the electric power of points."
— Georges Bataille, Visions of Excess
But The Third Eye looks far too respectable for this sort of malarkey, and I'm sure all revelry will be within the bounds of good Wellington middle-class decency. Host responsibility is ensured by the Goose Shack's truck in the ramshackle outdoor space, and while snacks such as deep-fried black pudding evoke a certain bucolic decadence, they will also help line the stomachs of those enjoying a few quiet post-work pints.
With this and The Bresolin, the last of the displaced bypass buildings have finally become occupied, eight long and desolate years after the dreaded road carved through Te Aro's heart. Upper Cuba St and Willis St are finally returning to a semblance of urban life, but Arthur St has not improved much since our venerable colleague Alf trekked past four years ago, when all he saw was "'temporary' gravel traps, segregated sliplanes, Chinese canteens, light-industrial brothels". The Temple of Taste is a beacon of life, beckoning you to pause for a drink and company rather than perpetuating the constant grind; the highway always urging you onward. It still feels marooned among vacant lots and carparks, but perhaps it will inspire others to turn these left-over spaces into something worth stopping for.