Read Books, Save Lives – The Annual DCM Bookfair
Instead kicking off on all the amazing books you'll find at Bookfair this weekend. I thought you might like to know how cold it's been in Wellington, last night it was 2.7°C in Kelburn overnight, with a light dusting of snow.  Snow is fun except when you don't have a place to call home, to store your belongings, or a hot shower. That's the story of so the most vulnerable people who rely  on the support and advocacy of DCM Wellington.
Here's the good news, the great news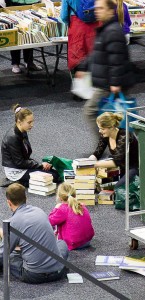 When you go to the DCM Bookfair, when you buy a book for $2 or $10 all that money goes to helping the those people,  & you go home with books,  modern fiction pulp fiction, historical fiction, science fiction (the fastest selling of the fictions), Boookfair has all the fictions. Kids books, Poetry books, Vintage books, Cooking books (super popular), Magazines, so many different kinds of reading. There is so much they have a whole map of where genres are located because there are over 90 thousand or so books. At Bookfair you'll also find puzzles, the games, stamps, graphic novels, records, CDs and some amazing readable vintage treasures.
The Bookfair is open at TSB Bank Arena Queen's Wharf :
Saturday 11 July 2015, 9:00am–5:00pm
Sunday 12 July 2015, 10:00am–4:00pm
Do bring the kids, they can go shopping for their kind of books, or games, or jigsaw puzzles, or comics while you hunt for yours. One idea is allowing them to buy a book for each day left in the school holidays, so for the rest of the school holidays they get a book each morning.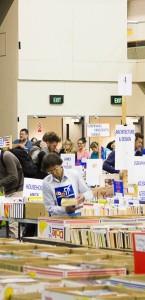 Each week DCM works with some 150 people, Supporting them to make dramatic changes in their lives, they  work with them to find housing, access their correct benefit entitlements, manage their money, and connect with family and a range of health and other services. DCM are working towards establishing Te Hapāi (which means to lift up or elevate) co-locating organizations & services  in one building working together to support, empower and enable people to make positive changes in their own lives.  Visitors to DCM can access Te Aro Health Centre health rooms, a low cost dental service staffed by volunteer dentists, probation services & Atareira (a whanau mental health service replacing the services capital coast health recently dropped). This is important stuff.
So come along to Bookfair this weekend spend some money, get some books , make a difference
Help DCM end homelessness in our city,
If you can't make it, maybe consider donating to DCM directly
Also if you want to complain about the price of a second hand book where the money is going to help the most vulnerable people in our city, maybe you might consider not doing that.