WOAP: Dining through the Decades
This is going to sound a bit silly, but I choose my Wellington on a Plate events looking for value for money.  The silly part, obviously, is that no one needs to drop over a hundred dollars a head on dinner, but if you're looking to have a degustation and matched wines, you're going to spend more than that on a regular night. So if we accept this Shelley Bridgemanesque premise, Dining Through The Decades at five courses and matched drinks, for $140 plus rage-making Ticketek fees, is a bargain. Especially once I found out that Glen Taylor from Taylor's on Jackon Street, formerly of Hummingbird, was now a chef-partner in the restaurant. So I booked myself and three others in for a trip back through time. Tonight was sold out but there are still tickets for Monday the 17th left. Run, don't walk. Oh, and if you are going to go – beware, there are spoilers ahead…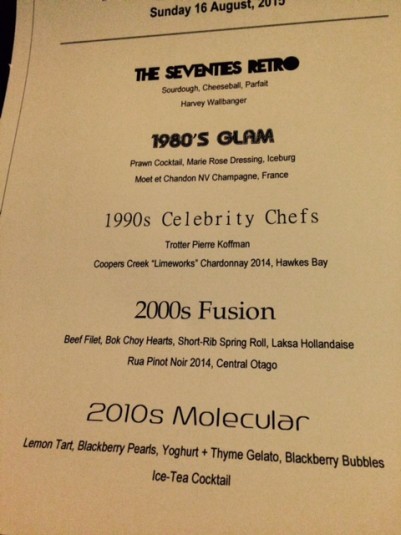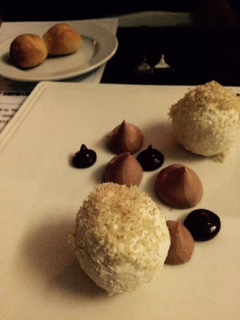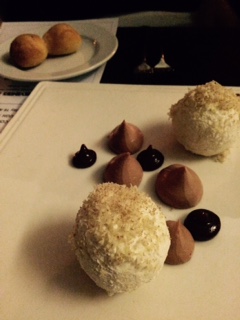 First up, Harvey Wallbangers as there wasn't much decent wine being drunk in the '70s in New Zealand. Our glasses got filled a couple of times. That was nice. Also nice? These giant cheese balls, served up with parfait. If you're wondering about the cheese to bread roll ratio, well, what are you, some kind of Air New Zealand patron?
I had a sneaking suspicion that Prawn Cocktail would feature on the menu, so I got in touch with the restaurant to say that I can't eat shellfish or crustaceans (well, I can eat them and I like them, but then they exit my body, rapidly, from both ends). Nevertheless, I prepped my companions to the possibility that they would have to eat my prawns for me (oh god the pain) but I was delighted to receive a salmon cocktail instead, diced in cubes and I believe marinaded in beetroot. Yummmm. There's a reason that Glen is the Oracle for Ora King Salmon, and that reason was in the glass. The others were a little jealous of my salmon actually, but also thoroughly delighted with their prawns.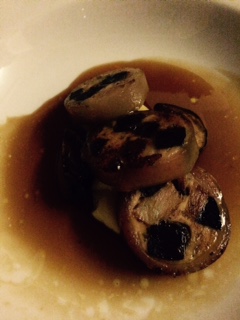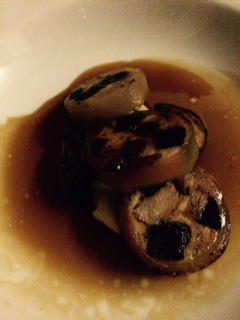 We'd worked our way through balls &  conversation about key parties, then champagne and stock market crashes, so it was time to turn our attention to the '90s. I'd never actually heard of Pierre Koffmann before, but that's what Google is for, after all.
The signature dish of the restaurant was pig's trotterwith chicken mousseline, sweetbreads and morels.[2] Celebrity chef Marco Pierre White has called this "favourite dish of all time".[4]
His trotters were delicious, and the big oaky chardonnay they'd had to work extra hard to find was a very fine match. Ooooof what an intensely rich dish though. Actually reading this description makes me realise that what I thought was a SPECTACULARLY meaty mushroom must have been a sweetbread, which I had been introduced to by Glen in the first place. Circle of life, etc.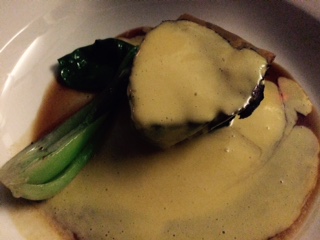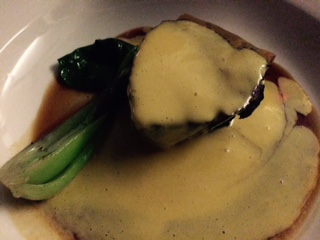 The next course, the confusion of fusion, made me, and I quote myself here "pick up my plate and lick it out like we met on OKC".
I like my fillet more on the blue side but if you're popping out 75 covers at once it's totally understandable that they'd be served  medium rare. They were still delicious, and I have never felt quite so glad to see a vegetable on a plate as I felt about that bok choy. The Otago pinot noir was much more familiar ground than the buttery chardonnay of the previous dish, and I was super pleased to get a top up too.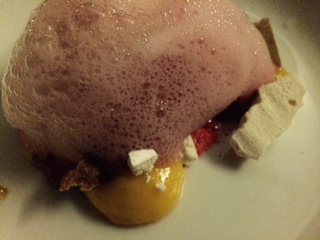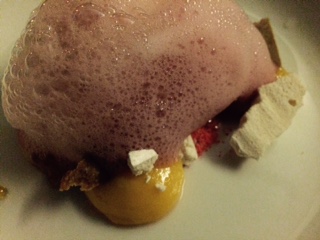 Then Adam Newall came out to talk about what we'd been eating, and dragged Glen out to explain the molecular cooking of the dessert. They were having fun, dessert was ridiculous with its foams and spheres and deconstructed lemon tartness, but it was also delicious. The cocktail wasn't a great match – two sweets together was a bit of a clash, but it was a good drink for the 2010s.
Really importantly, as well as the food and the drink being amazing, service was impeccable AND tables were split up so we didn't have to hear anyone talking about their investment properties and they weren't subjected to our lengthy meat puns. Hopefully. It was not a cheap dinner, but for the quality and quantity of what we were served, it was entertaining, memorable and therefore good value. If you're in a position where you're able to do so, you should definitely go along t0morrrow night.