A journey around the Billiards Room (and tables)
Last week, Wellingtonista's ace literary team was lucky enough to get invited along to the pre-launch Writers' Week Welcome, held within the Museum Art Hotel's very swanky Billiards Room.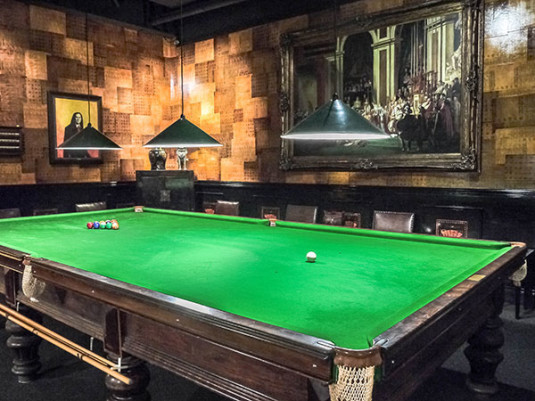 Following on from last year's sale of the Courtenay-district landmark (let's not go busting out the dreaded "iconic" just yet) to Sydney-based EVT (Event, Hospitality and Entertainment Limited), the hotel's in the process of rebranding. The QT Museum Wellington Hotel will join EVT's lineup of six QT-branded luxury hotels across Australia; though the art collection that's put the hotel on the map will continue to adorn the interior.
Every room in the Museum tells a story, the Billiards Room being no exception. Like the Hokusai cast-offs that found their way to France as wrapping-paper and kickstarted 19th-century Japonisme, the room's walls have been plastered with packaging manifests from other acquisitions. It's like munching canapes inside a warm, very roomy shipping container — though perhaps a more inviting experience than that description might imply.
So, there we were, shoulder-rubbing with some of the literati world's finest. Not that we could tell. The problem with literary stars is that, unless you're a specific fan of an author, you generally have no idea who they are. Sue's lit-crush Jasper Fforde wasn't there, so random mingling was the order of the day. And thus is was that our esteemed publisher James found himself playing some 8-ball with two of Israel's leading cultural lights: author Etgar Keret and his equally acclaimed wife, film-maker Shira Geffen.
(An aside: it does seem slightly incongruous that the Billiards Room tables are set up to play 8-ball. Presumably this is because (a) nobody really knows the rules to billiards, and (b) the tables are proper, massive billiard tables; it could take you weeks to finish off a game of billiards or snooker, so 8-ball is a way of ensuring a game can actually be completed over the course of a one-hour event. If only just. Presumably billiard or snooker sets can be pulled out on request.) (Another aside: nice straight cues.)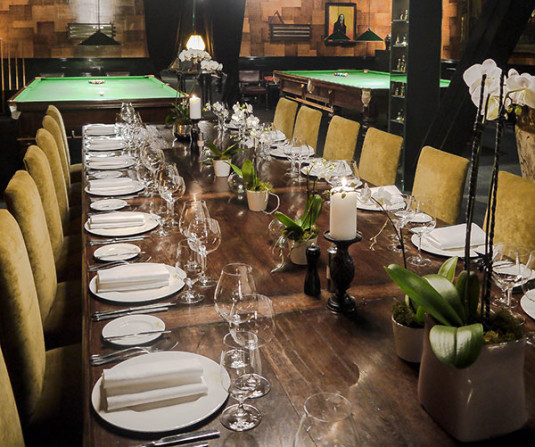 James and Etgar won over Etgar's wife and son, James's ridiculously long arms giving him something of an advantage on the tables that – as mentioned above and as Etgar would comment on later – "you just about needed to hitch-hike around to get from one side to the other". Most satisfying of all was shooing ex-mayor Kerry Prendergast away from the side of the table as Etgar lined up the winning shot. 8-ball etiquette wasn't high on the list of our erstwhile leader's priority lists, it would seem.
A good time had, then. The canapes (pork belly, arancini balls and Laurent's Loudeac signature dish 'Salmon sashimi my way') were delicious. The wine flowed, as did some very convivial discussions on writing, reading and skateboarding. It was the sort of place where it would be very easy to spend a good part of the evening (and early morning) discussing the finer things in life, surrounded as one is, by a good proportion of those things. But the whole thing wrapped up in the blink-of-an-eye as the vast majority of the attendees wandered down the road to the Miranda July concert (review of that, potentialy forthcoming here as well).
The hotel management's desire is for the rebranded QT Museum to be seen as more than just a night-stay, as the venue's staging of this gathering suggests. Stuck down Kent Terrace end with some emails to catch up on in between engagements? No fooling, the Museum would simply love for you to pop in for a coffee and leech their wi-fi. They're keen to be thought of as a downtown salon where travelers and locals alike feel free to bust out a laptop and hang out, albeit in distractingly well-curated surrounds. If clearing your inbox while a larger-than-life portrait of Ella Yelich-O'Connor peers over your shoulder appeals, this might be the only place to do so.