Preview: House of Sand season – Pedal & Castles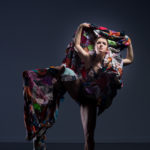 I couldn't see any of the House of Sand shows in the Fringe Festival this year so I'm really pleased that two of them – Pedal and Castles – are coming back to BATS Theatre this month.  Castles won the SYNZ Award and was nominated in a number of other categories.  I sent some questions to performer Eliza Sanders.
Q. What inspired these pieces?
A. It's hard to pinpoint specific ideas that inspired the works. There are definitely themes that are dominant throughout both pieces, such as freedom, discovery, flight, self analysis/critique and sex. I am not interested in having a meaning or a message I want to get across, rather I just try to make things that have some innately interesting quality or have an aesthetic that evoke an emotional response. I'm really passionate in all my work that whatever an audience member sees or understands the work to be is exactly what it is. I've really enjoyed talking to people after my shows and discovering their interpretations of the material that I never would have thought of before, but when they say it the representation seems completely obvious. So the next time I perform the work I see what they saw and it is completely new to me too.
Q. Pedal is the forerunner to Castles – what does this mean?
A. I created Pedal while I was still at school [New Zealand School of Dance]. After audiences in Canberra and Wellington responded so generously to what I had made, I wanted to really experiment with the form that had evolved. I felt as though I had only skimmed the surface of what was possible in the context of being alone on stage with only my voice and a few pieces of fabric to work with.
The dramatic arc and journey in Castles was much more planned from the outset. I was travelling in Europe and America for a few months when I had the inspiration for the how the journey should continue. I had a strong sense that the 'story' (whatever that might be) I had begun in Pedal was not completely concluded and I wanted to revisit the Character (for want of a better word) and method to see where else it might go. It certainly feels like a progression from where I started with Pedal.
Q. What can people expect?
A. People often say my work is strange, or not like anything they've ever seen before. I guess in a way it is strange, I'm telling a story but I don't know what it is. It's almost entirely scored by my own text but what I say rarely makes very much logical sense. I perform physical and intricate dance sequences which I hope use the training I have to communicate what only movement can, while delivering semi-sensical text. I suppose audiences can expect a weird hybrid of the cabaret, absurdist theatre and the virtuosic movement style that New Zealand and Australia are known for. I hope that they defy type casting. I'm trained as a dancer, but I'm also passionate about theatre, music, visual and performance art so my hope is that Pedal and Castles are an intersection of all these things using my primary background in dance as tool to pull them all together.
Q. Who else is involved with your work?
My brother Charles who is co-creator of House of Sand has been my partner on all things production based for the season. I also had creative assistance/advice from a whole range of peers and tutors while I was creating Pedal at NZSD. John Butterfield and Tommy Truss were particularly helpful in the early stages of putting Pedal together. Laura Beanland-Stephens has been a constant voice of reason. My mum and her sewing machine has also played a pretty massive part in the physical creation of the props and costumes. Owen Macarthy has done all the lighting design for both shows as well as filming past shows and editing promo videos. Anton Cleaver-Wilkinson has done all the poster design from Melbourne and the promotion images were taken by Stephen A'Court and Lorna Sim who have both been incredible generous in offering their photography services for free! I'm so grateful to all these people
Q. Do we have to see both shows to make sense of them?
A. No. Both works hold their own without the other to support them. However I think the progression and difference between the two is what many people will find fascinating. I hope that most people come to see both because they are a conversation with each other and each makes the other a richer experience.
House of Sand season Pedals & Castles performed in repertory at BATS theatre 17-21 Mary 2016, with a double bill on 21 May  2016