Review: The Elephant Thief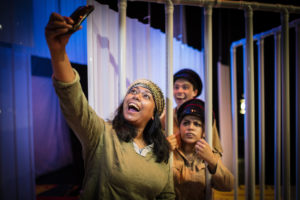 An exuberant onstage cartoon, Indian Ink Theatre Company's The Elephant Thief begins in a jail cell and ends in… space, or the afterlife, or some other such vague spoiler. It's an outsized feast of imaginative staging and potential pachyderm puns, anchored by a winning performance by company newcomer Vanessa Kumar.
The show's setting is a not-too-distant future in which climate change has rendered much of the world's surface uninhabitable and the surviving Indian subcontinent emerges as the planet's last superpower. Leela (Kumar) leaves her elephant-handling tribe's lands to see the world, not knowing that much of it is submerged — or that she and her elephant will become inveigled within an unlikely geopolitical farce between the remnants of the old world's dying empires.
The show plays in the evenings, for ticket-purchasing adults, on a live stage; but there's much of the Saturday-morning cartoon to the proceedings. Leela is a wily, wide-eyed trickster-naif after Anansi, Brer Rabbit, or Yogi Bear; Indian Ink veteran Nisha Madhan essays a succession of duplicitous matriarchs whose inspirations appear equal parts Pratibha Patil and Pixar. Their chemistry is boisterous yet nuanced, lending the show a strong female-driven impetus.
Elsewhere the cartoonish tone extends into thinly-drawn, tiring stereotypes and third-act moralising that would've been just as strong had it remained unspoken. The ensemble cast are deft when jumping between identities, settling on characters whose leery caricature proves unsuited to the script's joke-free final scenes.
The Elephant Thief's Hannah Playhouse run of 18 May-4 June is the second leg on a national tour for the show, making its way to New Plymouth and Auckland over the coming months. Check www.indianink.co.nz for further details.