Brand new bars
The last few weeks have seen a rich crop of new bars popping up in Te Aro like hospitable mushrooms. Here's a quick round-up of the most notable.
Wellington's had no shortage of new beer bars over the last few years, but it's been a while since we've had a proper wine bar. Noble Rot fills that gap with great élan, as well as filling the physical gap sadly left by the rather peculiar demise of Duke Carvell's.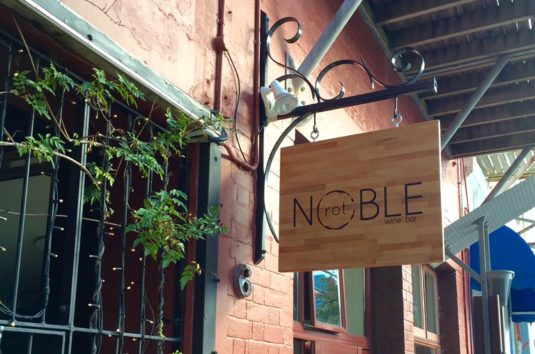 As expected, they offer a wide selection of wines by the glass, in both 100ml and 150ml servings to facilitate exploration or quaffing respectively. While bottle prices rise into the four figures, they have a surprisingly good number of bottles in the fortyish dollar bracket, which is better than many mid-range restaurant/bars at the moment. The food menu is set to expand soon, but even their small current offering is excellent, especially if you happen to like sausages (which even crop up in the fish dish). The theme seems to be southern European comfort food, including a hearty duck cassoulet that seems perfect for the coming winter.
More changes are afoot in Swan Lane, with Al Brown's long-awaited Wellington branch of Best Ugly Bagels set to open next month in the spaces that once housed both the Met Shop and that weird second-hand shop that never seemed to be open. The whole building is in need of significant structural work, which is why Floriditas will temporarily close from the 27th of June until early August. Once that's all finished, Swan Lane is set to be livelier (though in a rather gentrified way) than it has been in a long time.
Further up Cuba St, Five and Dime has just opened in the former Phoenician Falafel space sandwiched between Heaven Pizza and Suit Gallery. Run by the people behind Five Boroughs, it's a lively little joint that aims to be something between a sleek diner and a casual bar.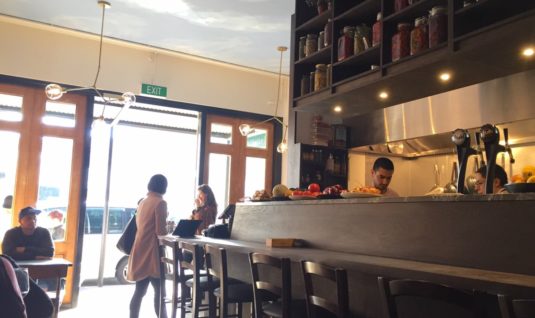 It has touches derived from both Five Boroughs (the loud hip hop soundtrack) and its former life, with Lebanese ingredients featured heavily in what would be an otherwise standard lunch menu ("Lebanese toasties" with labneh and za'atar; makanek sandwiches, a falafel salad). The evening menu showcases raw dishes such as sashimi and tartares, matched to brief but intriguing wine and cocktail lists, though the beer selection leaves a lot to be desired.
Down on the corner of Dixon and Eva streets, Eva Beva has opened up on the ground floor of newish nightclub Fat Angel. If you can get past the cringeworthy name and the unsightly smoking cages (though it was perhaps too much to wish for anything classy on the former Hope Bros site), the interior is relatively welcoming, like a spacious, festive barn.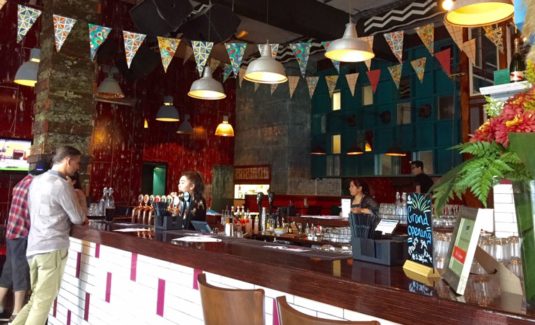 It has the sort of menu that would have been exciting five years ago (you know the drill: southern fried chicken, spare ribs, brisket with refried beans) but that now is about as fresh as last week's KFC leftovers. It has a serviceable wine and beer selection for a pub, with a cocktail list heavy on sweet ingredients.
If Fat Angel is aiming to fill the nightlife gap left by Sandwiches, some have hoped that Caroline might be the new Mighty Mighty. Oh, who are we kidding, nothing can replace Mighty, and but this offshoot of Meow (the stacks of vintage radios give the connection away) is a welcome addition to both the live music circuit and dining options in a part of town not known for liveliness after dark.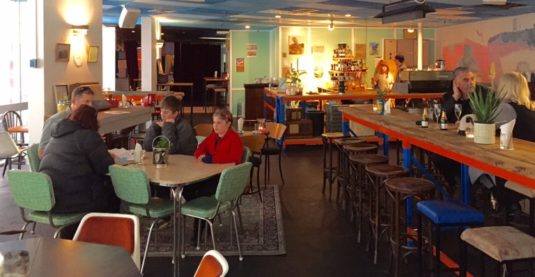 It makes the most of an odd, curved floor plan, bringing surprising amounts of light into what was once a weird postmodernist Italian restaurant upstairs in the Dukes Arcade. The menu is perhaps predictably burger-centric, but a little more Kiwiana than Americana (lots of pineapple). Approachable craft beers dominate the drinks offering, but it's interesting that they've made a play for the daytime market as well as being a bar and music venue. The nearby office lunch market seems awash with sandwich shops and sushi joints, but this certainly adds a refreshingly un-corporate option.