À la carless – The progressive dinner by e-bike
Wellington on a Plate is nearing it's end for 2016 but there's still a good weekend's worth of time to get out and about and try the things you've been meaning to, but haven't got around to yet. I was lucky enough to be able to do that on an electric bicycle and it's one of the most fun dinners I've had.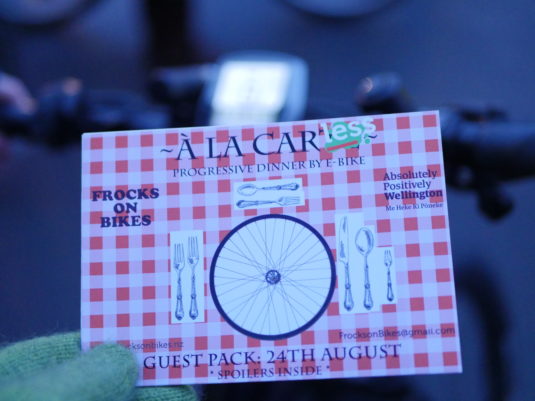 Frocks on Bikes organised the progressive dinner, À LA CARLESS, showing off just how fun and easy riding a bike can be. Frocks on Bikes aim to help more women of Aotearoa enjoy everything that bikes have to offer; the convenience, fun and sustainability, without the need for special clothing or extreme levels of fitness and despite being outside their target market: I'm on board.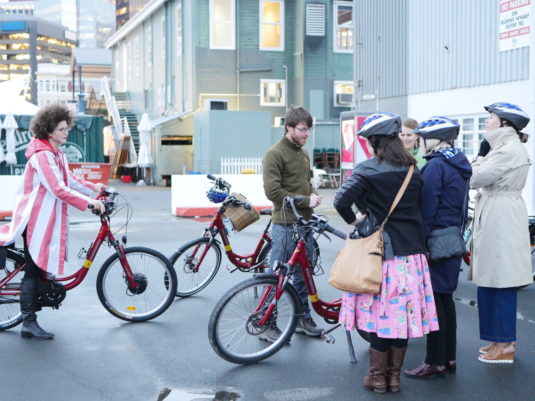 Ryan from  Switched on Bikes walked us through using the bikes, which buttons did what, the importance of brakes and taking it as easy as we needed. Ryan started Switched on Bikes just last year. He hires out e-bikes to anyone who wants to get around Wellington on 2 wheels and even runs guided tours for those that want to see Wellington from a different viewpoint.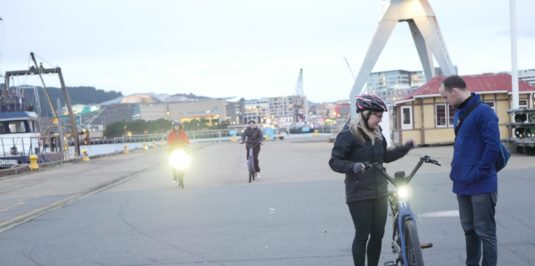 We got to test the bikes out on the wharf and being a regular non-lycra wearing cyclist I was well impressed with the electric motors. All it takes is one pedal revolution and the motor kicks in, boosting your speed to the level you set the computer at. One touch of the brakes and the engine cuts out, slowing down to your pedalling speed as needed. Wind became an irrelevance!
After Kath and Leah of Frocks on Bike talked us through the safety briefing the 14 of us headed off in a snake like fashion on our mystery progressive dinner. Not knowing exactly where we were headed but already having fun with our assisted pedalling we rolled along the waterfront, bells ringing with obnoxious glee, and up Tory street to our first stop at the Nam D container.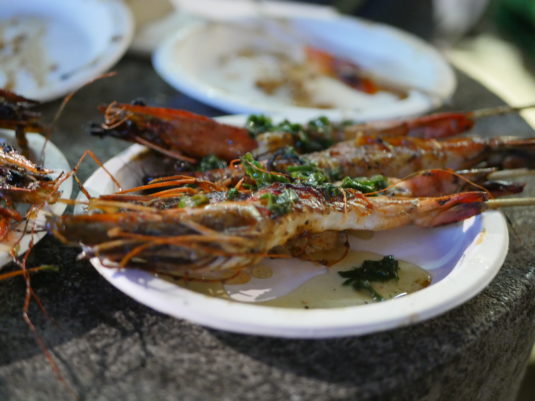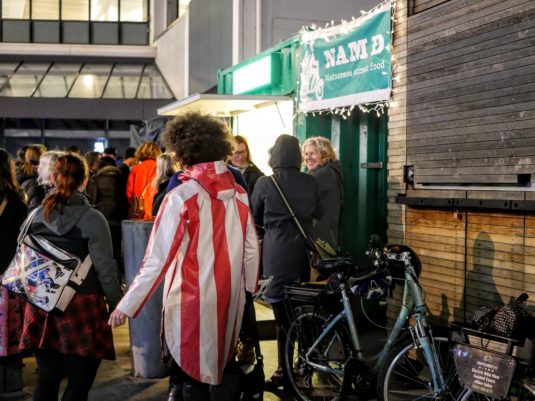 After finding space for our bikes (ANZ did not appreciate the idea of them being left anywhere close to their courtyard) we were treated to grilled King Prawns coated in spring onion oil and skewers of five spice beef wrapped in Betel leaves, both of which were wonderful and warming for our next mystery destination, on the way to which we would meet our first 'challenge' – The Brooklyn Hill.
I know!! We all biked up the Brooklyn Hill to enjoy a meal AND we arrived without being short of breath or needing to panic-strip. You know that feeling. When you check Metservice and see it's going to be as cold as spending time with the Night's Watch. So, you put on seven layers of clothing to leave the house but, by the time you've been sat on the bus for 30 minutes, heater cranking and surrounded by the other 200 people who thought catching the bus would be great, you arrive at work and cannot shed layers fast enough. For some reason that forecasted bitter southerly hasn't eventuated and you're now far too overdressed, looking a little more than rosy cheeked.
Well, there was none of that!! We just tapped our electric motors up a notch and made sure to pedal at a steady rate, passing a few regular cyclists on the way, cruising up the hill with surprising ease. I bike to Newtown everyday and you may not have noticed but Adelaide road, between the Basin and Countdown, has an incline. It's not huge, but it's there. I notice it. Everyday. BUT THIS! The Brooklyn Hill became marvellously insignificant and there was the benefit of arriving at Salty Pidgin.
Here we sampled their Dine Wellington menu where I selected the Chicken breast with whole rice and crispy shallot and rocket salad. It was crisp and succulent with the sweet shallots and peppery rocket pairing nicely with the Choice Bros Strung out on Lasers Gose I had alongside.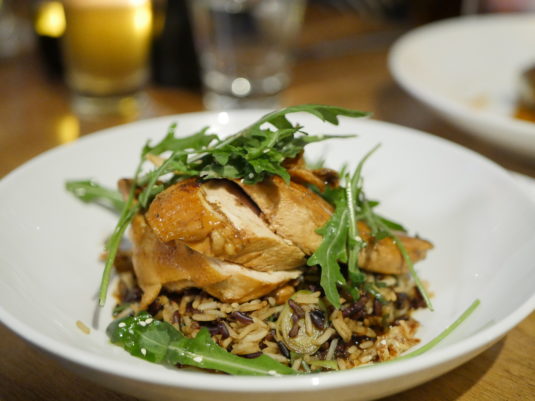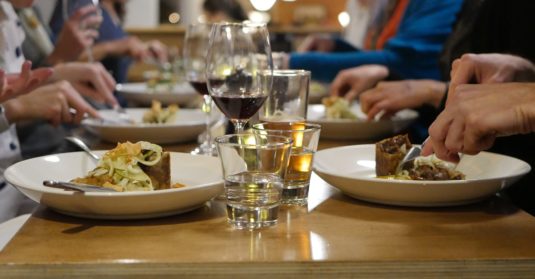 The filo pressed beef cauliflower was a hit with the rich beef and bacon emulsion balanced by the crisp pear and bitterness of the witloof. We followed up the main courses with the Armagnac chocolate bubba with sour apple and licorice creme fraiche. No photos of that as I'd inhaled mine before pausing to remove the lens cap. The bubba seemed to be a miniature muffin, soft and sweet with the slight tartness of the sweet licorice creme fraiche and the crisp apple being a great combination.
We then set off back down the hill through Central Park stopping for photo opportunities and the essential zip on the large flying fox. Flying through the dark to where the line runs out and being sent rushing, tilting upwards resulted in many whoops and squeals of delight. Many of the locals on the ride had no idea it even existed – I tell you it's worth a visit!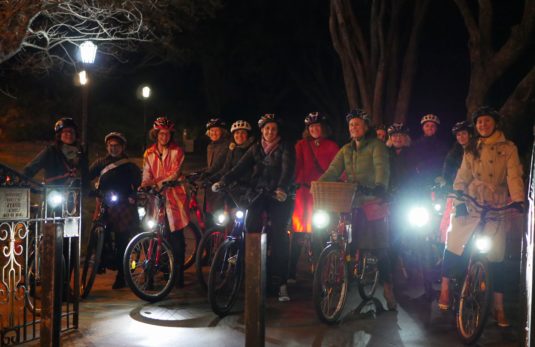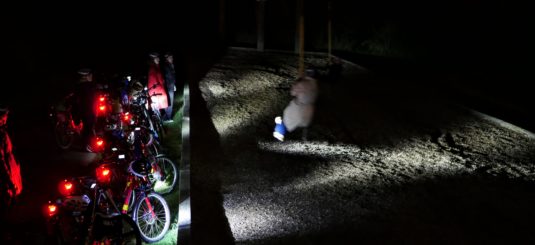 From there it was a lovely cruise down the hill with the city lit up and laid out in front of us. We then wound through the sidestreets and laneways to the waterfront, with plenty of people stopping to wave as the 14 of us rolled by.
Returning our bikes to Ryan at Switched on Bikes we then made our way across the road to Charle Noble Eatery & Bar to finish the evening with their Sage at Sea cocktail. The whisky based concoction, alongside the Darjeeling marinated figs and Zany Zeus labne (greek yoghurt), was a wonderful, warming end to our night.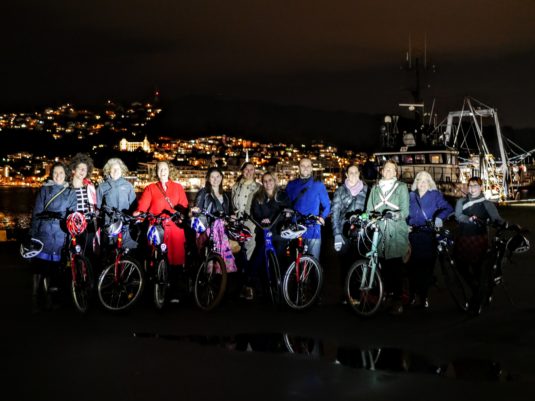 Thank you to Frocks on Bikes and Switched on Bikes. I had a thoroughly enjoyable evening making my way around the city with ease. No lycra or fluoro clothing required, just a warm jacket, a pair of gloves, a helmet and the opportunity to see Wellington from a two-wheeled perspective. I'd highly recommend getting to your next Wellington on a Plate event on a bicycle!