So much on our plates!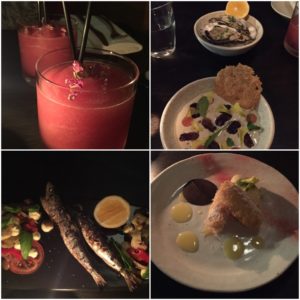 There's only three days left of Wellington on a Plate, but there's still a vast array of festival dishes and burgers to choose from, so if you can face the combined WOAP and rugby crowds this weekend, here are some of our highlights.
Five & Dime hide a surprisingly sophisticated kitchen behind their tiny bar, and their Dine Wellington menu consisted of four courses of delicate innovation. Almond gazpacho was delightfully subtle, almost bland on its own but the perfect foil for the jewel-like pickled grapes, leaves and other colourful delights that floated on its creamy surface. Instead of beer or wine, for an accompanying festival drink we chose their "Wellington slushie", a crisp but fruity concoction of Lighthouse gin and hibiscus.
We followed this with line-caught Albacore tuna ceviche (which more resembled kokoda or ika mata with its coconutty sweetness), grilled sardine puttanesca, and breaded salt and pepper lamb cutlets that were a surprisingly successful blend of east and west, combining Sichuan spices with a hummus base. Dessert was spectacular: sticks of pineapple fried in kataifi-like shredded pastry, accompanied by mouthwatering daiquiri Kāpiti ice cream, with diverse accompaniments such as salted caramel praline, lime zest and dark chocolate rendered into dusts, blobs and wafers.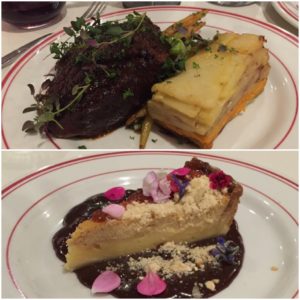 Their sister establishment Five Boroughs sticks to heartier fare. I couldn't face the infamous Turducken Down burger (my arteries would never talk to me again), so instead went with their short Dine Wellington menu. The braised beef pot roast from Island Bay Butchery was adequately tender, while still retaining enough texture to get your teeth into, with a rich meatiness enhanced by fresh herbs and a touch of spice in the comfortingly heavy sauce. The potato gratin was a little light on the promised emmental, but when put together with multicoloured baby carrots the whole dish was a success.
Again, the dessert stood out. The baked buttermilk pie had enough tang to offset its innate heaviness, but the sauces elevated it to another level. A dense pool of Wellington Chocolate Factory chocolate hid textural surprises of hazelnuts and pretzel praline, and just a smattering of rhubarb cut through all that sweetness.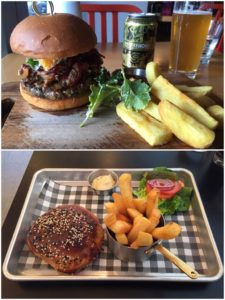 Grill Meats Beer made a wise structural choice when designing their Lamb Shank Redemption: braised shank tends to fall apart in a sloppy mess, so they put it on firm spiced lamb patty to hold it all together. The result was not just good engineering, but good eats, with intriguing textural and flavour contrasts between the two presentations. Adding roast pumpkin, beetroot, feta and pine nut aioli created such a winning combination that I'll even forgive their insertion of pointless, scratchy baby kale. The accompanying Garage Project Persephone was a bit tart and unbalanced on its own, but when I drank it along with the burger, both food and drink sprang into magical focus.
Out in Miramar, Park Kitchen went for a radical interpretation of burgerhood that is sure to annoy the purists. The convoluted name (Beef Pat Tie "Wellington") gives a hint that this takes some cues from Beef Wellington, and indeed the beef is entirely contained within the brioche bun, with salad elements stacked separately on the tray beside it. It's not even topologically equivalent to the Platonic burger, and the supposed Wellington-ness extends only to the enclosure of the meat, not to the inclusion of pâté and duxelles, which are replaced by smoked beetroot and smoked provolone. Nevertheless, in the way that James K Baxter could write "sonnets" while dispensing with their canonical rhyme scheme and yet make them entirely his own, this "burger" is successful in its own right.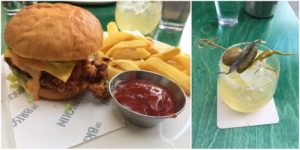 The Bresolin stuck with a much more conventional approach, and in fact on paper their Fowl Play didn't seem much different from their standard fried chicken burger. Pickled jalapeños were the main difference, but the American cheese slice and Mississippi-inspired 'comeback sauce' completed the Deep South connection. The result wasn't groundbreaking, but we both finished our burgers before we knew it: it's ridiculously, dangerously edible.
Their festival cocktail, Captain Nemo's Demise, is a little edgier, at least in its choice of intensely savoury accoutrements. Gin goes comfortably enough with rosemary, honey, lemon and bitters, and the sea salt rim brings a touch of Margaritaville to the party. But things then get even saltier, with a white anchovy, garlic-stuffed olive, cornichon and pickled chili all harpooned together atop the glass. Stranger things have happened at sea, but rarely this deliciously.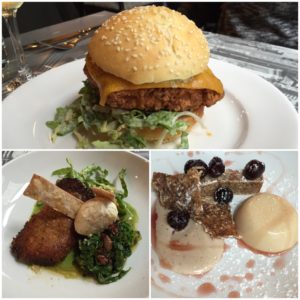 If the Bresolin's burger offering hints towards fast-food stylings (one of the staff described it as "like McDonald's, only edible"), Ti Kouka makes their homage explicit with their "TKFC burger". There are many similarities, but with hints of exoticism in kimchi salt, tasso ham and smoked cheese. Many of those subtleties got lost in the mix, but the result was, like the Fowl Play, declared to be moreish and well-balanced.
The festival dishes were a little more adventurous. I chose what was effectively a very sly take on a chicken Caesar salad, only with pulled confit chicken that had been crumbed and fried, resulting in a glorious textural contrast between meltingly tender confit and crispy crumbs. The egg has been fried after poaching, providing an intriguingly firm white, and the Caesar-standard ingredients of iceberg lettuce, croutons and sardine aioli (in place of anchovies) was enlivened by a few items not mention on the menu, including crisp lavosh-like wafers and what I took to be rich nuggets of bacon.
Dessert also provided studied contrasts in flavours and textures. Panna cotta was flavoured with Garage Project's Cherry Bomb porter, its silky wobble complemented by firmness and crunch in the form of cocoa husk and coconut rough. There's something both melancholy and hopeful about cherries this far out of season: their deflated softness recalling the faded glory of last summer, while their sweetness looks forward to the summer to come.