Preview: Black Grace – As Night Falls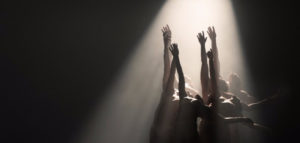 Following a sold-out Auckland season in 2016, and a 10-centre tour of the United States, Black Grace and Tour-Makers are proud to tour the critically acclaimed As Night Falls to seven national centres from 22 June – 6 July around Aotearoa.
A poetic ode to our troubled world, As Night Falls is Artistic Director Neil Ieremia's latest full length work, beautifully set to the timeless and passionate sound of Antonio Vivaldi. He says "As Night Falls is bold and bright like the colourful muumuu dresses worn by my mother without shame or ceremony. I had initially wanted this work to be the expression of my concerns and fears of the darkness that seems to be eroding the value of equality and human life. Instead, I feel compelled to respond with a contrasting beauty and physical vitality, musicality and hope.  It is my offer of beauty for ashes."
Black Grace was founded by Neil Ieremia in 1995 and continues to draw inspiration from his Samoan and New Zealand roots to create innovative dance works that reach across social, cultural and generational barriers. Ieremia has been met with widespread recognition for his legacy of work from both audiences and critics alike, all over the globe. He has taken home the Senior Pacific Artist Award from Creative New Zealand and has made the Queen's Birthday Honours List becoming an Officer of the New Zealand Order of Merit.