Preview: The Mooncake and the Kūmara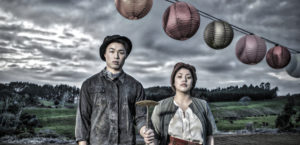 Layered with myth and fable, The Mooncake and the Kūmara is a moving story about a mixed-up, Māori-Chinese love affair that sprouts among rows of potatoes. Told in a mixture of English, Māori and Cantonese, the play is showing in Wellington as part of the Kia Mau Festival. Māori-Chinese playwright Mei-Lin Te Puea Hansen talked to us about the play.
"I tell people it took me seven years to write The Mooncake and the Kūmara.  That's not entirely true – there was the 10 minute version, which was first performed in 2008 and again in 2010 and the full length play that's coming to Wellington is an extension of that 10-minute version. I wrote the 10-minute, three-hander in conjunction with my cousin Kiel McNaughton. It won Best Drama at Short + Sweet 2010 and so I was encouraged by that to work on a full-length script.
It's taken several years since then for the play to reach the point it has now – being performed at Hannah Playhouse as part of the Kia Mau Festival. That said, because of the supportive crew involved, I've had a relatively easy ride getting my script to the stage.  I've had so much support all along the way – Playmarket sessions with Stuart Hoar thanks to Banana Boat and Jenni Heka and Murray Lynch, connections with lecturers and supervisors from the past, access to lots of other work – I could go and see lots of plays because I knew lots of people involved in theatre.  I knew about Festivals, theatre companies, and enough about how theatre works to provide me with a lot of hook ups.
Then there's the role of producers in actually making sure the play got put on. I put the script in front of Carla van Zon [then Director of Auckland Festival] and pleaded with her to read it. After the work premiered at the Auckland Arts Festival 2015, Betsy & Mana Productions with The Oryza Foundation and The Touring Agency toured the show to Nelson, Oamaru, Taranaki, Tauranga, and Hamilton.
Now my super-duper production team have organised the tour that is bringing the show to Kia Mau.
Primarily I'm aiming the story at people like me; people who love stories about Aotearoa, people who are interested in the secrets, loves, trials and dreams of those around them, people who have big, culturally mixed (in whatever way) families like my one, people who have come here from somewhere else, people who are lonely, people who are in love and I wrote the story for my whānau…that's a LOT of people.
The play is very special to me because it's about my grandparents – my Chinese grandfather (Goong Goong) and my Māori Grandmother (Nan). I wrote it in response to a couple of things. One was imagining of how my mum's parents came together. There were all sorts of stories flying around when we were kids and none of them was ever touted as the TRUE/REAL story so I wrote this to add to the repertoire – it's only loosely based on my grandparents.
The other reason I wrote the play was to depict that strange space that you occupy when you're in between stories. So it's in response to me looking through family photo albums when I was younger and seeing all these people and places I knew were part of me (China, Hong Kong, Ngaruawahia, Turangawaewae) but that I had no idea about…and I didn't really know how they were part of me. As well, I was momentarily in situations where Goong Goong would be speaking Cantonese to our relatives and Nan would be speaking Māori to my great aunties and uncles and I would listen, slightly bemused and not really knowing how I belonged or what was going on.
In 2015 I had cousins come to The Mooncake and the Kūmara who'd never stepped into a theatre foyer before – that was a buzz. I caught up with family friends I hadn't seen in years. I reminisced with old school friends. I watched my tearful mother as she hugged the actors and thanked them for telling our whānau story. I met a woman from New Caledonia who was so excited by the play she wanted us to take it there. Throughout the eight-show season I was spoilt by a mini family-reunion as my whānau, and the whānau of the six cast members came into the city (some from as far as Te Awamutu) to share the story.
I hope [the audience are] thinking that their journey to get to the theatre, to pay for and buy their tickets (not easy these days), to find parking, babysitters, friends to go with etc was worth it and that they'd do it again. I hope there's something in the show that resonates with them – whether it's the stories of migration, home, compromise, romance or our country's shared social history.
I hope they are thinking about our ancestors, about the world, society and environment they lived in and about whether that world has changed. I hope they are thinking about the strength of women. I hope they are thinking about the voices of the people on the fringes of our communities. I hope they are thinking 'that show told some of my story'. I hope they are thinking, wow, I never knew that…I hope they are thinking 'that was funny'. I hope they are thinking I'm going to go to another New Zealand play!"
More about the people involved in the show after the jump.
"There were so many good, good people involved in getting this play up and on the stage…and it seems that the play (the story contained within it, really) has gathered together just about the best and most committed, capable, caring and talented rōpu imaginable!
There's a co-production team – Oryza Foundation for Asian Performing Arts and Besty and Mana Productions – headed up by the wonderful Yee Yang Lee, Sums Selvarajan and Dolina Wehipeihana and they are skilled, thoughtful and clever (and most importantly, kind) producers. There's the director extraordinaire Katie Wolfe who has known about the play and the story for many years and who has worked on the project alongside the production team since it was first shown at Auckland Arts Festival in 2015 (and before that she was involved in workshops and script development). She's taken it to heart and worked incredibly hard with me and the cast for several years now. She knows the drivers and motivations in the play more than anyone else.
The play has been dramaturged to within an inch of its life. I've been lucky enough to work with Katie on dramaturgy, and also Fiona Graham (she played a MAJOR part in getting the play to the place it was when I pitched it to Auckland Arts Festival) and Stuart Hoar from Playmarket as well as my dear friend Murray Edmond.
Because the play was first presented at the Auckland Arts Festival, I've also been supported by the team there – Carla van Zon ex-Artistic Director in particular has been very supportive of the play and the story.
And, of course, there's the dedicated cast, crew and creatives involved in getting the production to where it is now. The set and wardrobe and sound designers, the lighting and sound ops, the stage managers…omg!
There have been many actors who have been involved in workshops for the play, readings, analyses, discussions…and of course, performing. The actors have to be able to speak Cantonese, Māori and English, sing, deal with my strange script, do some dancing and work closely with 5 others. Every production, including this one in Wellington, has some cast members who are native speakers of their language and others who have had to learn bits and pieces of the show. It's so humbling to watch them go about their work and bring the story of my whānau to life. This particular production has Katlyn Wong (playing the toughest role in the show), Jeremy Randerson (grappling with the second toughest role), Taupunakohe Tocker, Waimihi Hotere (who has been with the show for MANY years), Charles Chan and Sam Wang (who has had to learn Cantonese for his role)."