Preview: Fire in the water, fire in the sky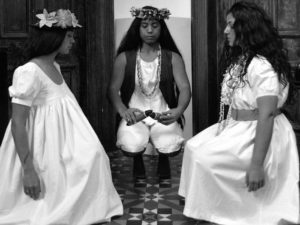 Told through movement, dance and text, this is a modern statement on climate change, colonisation and Christianity across the Pacific Rim. It's an untangling of the greatest collision to have affected the Pacific – western imperialism.
Fire In The Water, Fire In The Sky has various performance times during the mornings. It shows in Tangata Le Moana, Level 4, Te Papa, and the performers move in and around the objects on display. The audience follows them through the space – don't be afraid to get closer and to walk around them.
Developed as part of her Fulbright–Creative New Zealand Pacific Writer Residency at the University of Hawai'i, Mānoa, director Mīria George answered some of our questions.
"'Fire In The Water, Fire In The Sky' has gathered emerging and established artists based in Te Whānganui-a-tara.  In the rehearsal room I've been working with three artists who are new to the professional industry, Te Hau Winitana, Mapihi Kelland and Manarangi Mua.  Working from a narrative researched and created in Hawai'i, we've devised the performance installation on the rehearsal room floor.  Designers Tony De Goldi and Cara Louise Waretini have brought us nuances of time and space through props and costumes – allowing our work to be a story on ideas – a modern statement on climate change and colonisation in the Pacific.   
Māori + Pasifika whānau + hapū stand at the front line of climate change – our waters and whenua affected – the impact upon the present and the future vast.  I wanted to create a work of art that addressed the ongoing colonisation of Māori + Pasifika, whether entrenched in government policy or a continued devaluing of our worldview, 'Fire In The Water, Fire In The Sky' is about now. 
For a long time I've wanted to bring a performance installation into gallery and museum spaces.  My father would take his children into galleries – these are familiar spaces for me, where creativity is both provocative and challenging.  My second stage play 'and what remains' premiered within the exhibition space at the City Gallery, Wellington (in 2005) – as at the time more political work was more widely embraced in a visual arts context. I wanted to cross paths with patrons of galleries + museum – with those who are yet to experience a form of indigenous performance.  My aim was to expose my world view directly before these patrons – should they choose to watch and engage or not.  Often families will be within these spaces – parents with children who look on with curiosity and cannot help to follow us through the space.
Gallery and museum spaces can be unexpected and dynamic – particularly when combined with patrons who aren't necessarily planning to be engaged with our performance installation.  These spaces often hold provocative contemporary work – challenging conversations questioning the world around them and the dominant paradigm.  Museum spaces hold many of our taonga – taonga from throughout the country and the greater Pacific – our tupuna are depicted in these spaces  – and should not be forgotten in these spaces.  'Fire In The Water, Fire In The Sky' evokes a creative narrative throughout gallery and museum spaces – where both contemporary work and taonga alike also become a part of our installation.     
I'm excited to present outside of theatres – and in spaces where performance installations are not necessarily common space.  That audiences can encounter an indigenous experience by a female artist may inspire then to search for more performance experiences – and that I might one day see them also inside of the theatre! If audiences would come away curious to consider the multiple ways of life that  they've been shown in this work, that audiences would consider the way our worlds collide – just like them encountering this piece. "