Preview: The Māori Sidesteps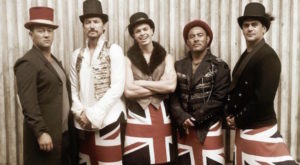 The newest and naughtiest Maori showband on the Aotearoa entertainment scene plays at BATS Theatre during the Kia Mau Festival. Self described as "Funny Māoris with funny songs" this show is more of a gig than a theatre piece for the actors involved. Band member Jamie McCaskill talked about the origins of the group and what they do.
"Rob Mokaraka, Cohen Holloway, Jamie McCaskill, Erroll Anderson and Jerome Leota are all professional actors based in the Wellington region. We wanted to create a group that is political, entertaining and funny. Having all these guys together feels like a super group. 
Rob is currently touring his show "Shot bro" around the country, Cohen is a busy actor involved in lots of film and television. Jerome is a stay at home dad and an amazing musician and actor. Jamie is a director of Tikapa Productions and a writer/actor/musician. Erroll is the youngest in the group and has an amazing career ahead of him. So fitting in Maori Sidesteps gigs is tough but we all have a great time doing it.
We started as a live group first in 2016. Producer, Brandon Te Moananui came to us around the same time we were getting the group together and wanted to make a Māori musical web series so Mooks [Rob] and I said, well we happen to have a Māori musical group. Let's do this!"
McCaskill says the show is aimed at "Absolutely everyone. It is an inclusive type performance that should make you proud to be a New Zealander. We are cheeky and naughty there's no doubt about that. But we won't slap people over the head with political ideals. I just hope [the audience] have had a great time and sing along. We are putting together a show that has recognisable tunes with our own spin on things. If I see everybody smiling and humming the tunes at the end I will consider that a success. Even better if they buy some of our merchandise we will have on sale."