Preview: The Purple Onion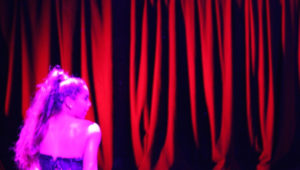 The Purple Onion  peeps into the world of Wellington's infamous burlesque parlour as part of the Kia Mau Festival. Established in the mid 1960s, the Purple Onion was Wellington's premiere strip club which attracted some of New Zealand's social elite as well as its fair share of dubious characters. Combining text, dance and a live funk band, this show acknowledges the significant historical contributions of the lesbian, gay, trans, and queer communities to the social night life of Wellington City during the 1960s and 70s.
Tupe Lualua, Artistic Director of Le Moana talked to me about the show.
"[This project started during]conversations with some of my fellow Samoan actors back in 2011, Ian Lesa, Moana Ete, Asalemo Tofete, Saufo'i Fa'avale and Taofi Mose-Tuiloma, we were all fairly new in the scheme of creating our own works.   I think we were all at the after party for a show that Asa, Taofi, Saufo'i and myself were in and got into a discussion with our peers on creating something collaboratively.  Asalemo had mentioned the Purple Onion previously and then Moana had a family connection to the original club owner, so we embarked on the research process which included meeting with Pasi (the original owner) his son's Mark and Steven, some of the ladies that worked at the club and also some of the patrons.  We worked on it intermittently and eventually had the first development presentation in February 2015 at the Pūtahi Festival in Wellington, followed by a second development for the Measina Festival in December 2016.  
What I have been attracted to in this early stage of my arts career are stories that are driven by Pacific people and this story in particular is very unique. Also situating the Purple Onion night club in 1970s New Zealand that was going through some major changes, I really wanted to zoom in on the movers and shakers from the Pacific that were active during that time, namely Pasi Daniells and Carmen Rupe.  The identity of the nation was changing with the large influx of Pacific Islanders and other New Zealand theatre companies have also contributed to that narrative with performances such as "The dawn raids" by Pacific Underground and "The Factory" by Kila Kokonut Krew.  The Purple Onion is a contribution to that conversation, acknowledging the multi-faceted Pacific identity in New Zealand and the people who were involved in the adult entertainment industry at that time.   
The Purple Onion is a fictional tale inspired by real stories and real events.  There's something in it for everyone.  'Post-war cohort', 'baby boomers' and 'generation X' will love the live band, playing some of their favourite hits from that era.  The 'milleniums' or 'generations y and z' will appreciate the multi-layered aspects of live performance and some of New Zealands most gifted young artists who will be performing it for them.  Our audiences will be transported into a world where fantasies became reality and against all odds, those who were marginalised, created a space where they could be free and where they were accepted and in doing so paved the way for the many generations to follow."
Featuring: Musical Director:  Courtney-Savali Andrews; Actors:  Tepora Samia and Paul Fagamalo; Dancers:  Andy Tilo, Oriwa Mitchell, Kate Ngatokorua, TJ Misa, Rikki Tofi and Jacob Ioapo; Band:  Sonny Miti, Gio Lesa, Aroma Mauigoa and Jedidiah Lesa; Singers:  Greer Samuel, Julian Wright and Sina Esera; Producer:  Liz Ah-hi.
Content warning: Contains coarse language, nudity and sexual references.