Preview: Riverside Kings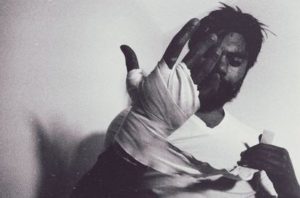 Riverside Kings opens in Upper Hutt today and plays in BATS Theatre next week as part of the Kia Mau Festival. The creators Sarita So and Natano Keni, describe it as "a physical weaving of brotherhood, nostalgia and change." Their new company, I Ken So Productions, aims to create, diverse works of a high quality.  They are broadening their skillset which will they hope will lead to longevity within the arts community.
Producer and writer, Sarita So, answered some of my questions on behalf of the company.
" The story came about  as  part of the newly named 'Breaking Ground Festival' previously known as the Matariki Development Festival in 2015 , a festival that Tawata Productions run every year, we have been part of the festival since the first year.  Previously our engagement within the festival has primarily been as actors, work shopping other writer's scripts.  Breaking Ground Festival is a time of the year that I really love, as a creative and actor you get to see the first presentations of a seed, an idea that the writers wants to investigate and you get to nut it out with the writer intensively through the week, that by the end of the week the goal is that the writer hopefully has a better idea of where they want to take the work.  It was during the Matariki Development Festival 2015, that Miria asked if Natano wanted to try his hand at writing a monologue to present as part of the festival  that I think he ever considered giving it a go.  So he decided to write about this peculiar little place that is Timberlea, Upper Hutt.  And this was the beginnings of where 'Riverside Kings' came from.  In it's very early days it was under the working title of "Manny Pacquaio of Timberlea".
Natano took the monologue further by presenting a full script as part of the Putahi Festival, a festival that focuses on further development of a script or show you have tried out before.  He did it as a solo show then and we were suppose to go on to  present a  season of that, however a week before heading in to rehearsals he had a death  in the family and decided to pull that season and wait for a better time.  Now it's been completely reworked, same characters but different story, in a way it's more grounded because he's made it not only a homage to the place but addressing that loss of a brother, paying homage to him and keeping his memory alive through the work as well.
[Timberlea]  is a very small place and a place that people have either never heard of or just forgotten, not considered or included and also a place that is distinctly itself, it's got its own and unique feel about it, both rough and idyllic at the same time, not quite suburbia,  really close to the river and farmland.  It is a place where the lights don't work at night, a place different cultures and gangs reside in but somehow everyone manages to live alongside each other. More recently it's had some bad press but I guess he wanted to pay homage to the place of his childhood.  It's quite an odd place for a few Samoan families to have ended up.
Boxing, because Natano loves it and really wanted to use the idea of sport as metaphor for life, also because we really wanted to make the piece physical and active, the aesthetic of boxing and seeing someone literally punch themselves out until they have nothing.  I love seeing an actor sweat and work, doing something physically challenging, like when the boundaries between athlete and actor are blurred.  When they do something that I can't or that I know takes a lot, they become sort of like a superhero to me, you just respect that not everybody could do what they do.
I think to an audience [from Timberlea] they'll get to experience seeing and hearing characters of the place, the recognition and celebration of the place, that Timberlea as a place and character has a place to stand, it's on the theatre map.  For people who may not be familiar, I would say a universal story, a story that they may relate to if they too are from a little town and as well as this it's a story about family, friendship and nostalgia for the past.  The pain of losing a loved one and how sometimes sharing that pain is better than never being able to meet it."
I hope that the audience specifically in Upper Hutt experience the love of the place, that they are worthy of stories. That they make a good story and that they too have the right to tell their version of the story.
Finally, Sarita hopes that audiences will recognise "That all traditions, be they new or old, are all worthy."
Profiles of the people working on the project after the jump.
Sarita So, producer and writer, completed a Bachelor of Arts in English Literature and Theatre at Victoria University, following this up with a Bachelor of Performing Arts in Acting at Toi Whakaari:  New Zealand Drama School. She has now returned to full time study at the International Institute of Modern Letters, towards her MA in Creative Scriptwriting at Victoria University.  She believes that it is integral as an artists and producer to continue to practice professional development, to allow sustainable growth within the industry.
Natano Keni, writer and director, is a New Zealand born Samoan, born and raised in the Hutt Valley, Wellington. He enjoys having a good Samoan banter as well as having an appreciation for the poetry of the orators. He has extensive experience working with organisations that focus on youth development, through schools and also juvenile detention centres, using theatre as a tool to question and problem solve. Natano joined with the Barbarians Productions 'White Elephant' which has influenced his own personal questions of his role as a maker and what he strives to further explore, within the arts and its relationship in Aotearoa; New Zealand and the world.
Of Samoan and Tokelauan descent, Semu Filipo is a graduate of Toi Whakaari:New Zealand Drama School (2004) and has worked extensively in NZ T.V, film and theatre.  Semu is hot off the Pop Up Globe's smash hit production of 'Much ado about Nothing' starring as 'Benedict'.
Joseph Ausage, born and raised in Lower Hutt, Wellington NZ, Lale is of Samoan descent and the youngest of three. Lale first fell in love with Drama whilst a student at St Bernard's College. Drama was not to be his immediate path, instead, after a stint at Victoria University and also playing Rugby League, at the age of 26 he finally decided it was the right 'time' to persue his true love of Stage and Screen at Whitireia Performing Arts. He believes that given the opportunity to help tell others stories is the greatest attribute to being an actor and hopes to be part of many more in the future.
Tony De Goldi, set designer, is a Wellington based Theatre Designer and Artist and has designed for theatre for over twenty years . Tony has designed productions for Tikapa, Tawata Productions, Te Rakau , Taki Rua Productions, NZ Opera, Capital E National Children's Theatre as well as other independent theatre companies. Much of Tonys work has been with contemporary indigenous productions and he has also exhibited internationally since 1995. Tony is a member of the Kava Club and is currently Set Mentor for this year's Young and Hungry Theatre season in July.
Glenn Ashworth has designed the lighting.
Karnan Saba, composer and sound designer, has helmed the sound design and composition duties for Award-winning shows by Tawata Productions which include I, George Nepia, The Prospect, Sunset Road, The Mourning After, the New Zealand International Arts Festival production of Tu (2012), The Beautiful Ones and the White Face Crew Production Double Derelicts. A founding member of Wellington's original Asian-inspired fusion outfit Moksha, he has been involved in city's music and community arts scene as a musician, producer and event organiser since 2001.