Preview: Still life with chickens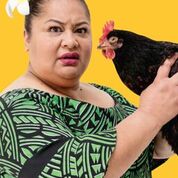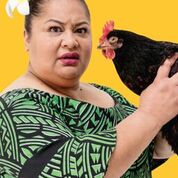 Still Life with Chickens is coming to Wellington this month after seasons in Auckland and Palmerston North. A simple story about an older woman discovering a naughty chicken invading her garden it becomes a beautiful and funny play about loneliness and the resilience of communities.
Actor & puppeteer Haanz Fa'avae-Jackson answered some questions about the show.
"The cast consists of one actor, Goretti Chadwick, who plays the role of 'Mama', and there's me, the chicken puppeteer. Still Life With Chickens was written by D. F. Mamea, and directed by Fasitua Amosa." In 2017 Still Life with Chickens won the Adam NZ play award and the Playmarket Best Play by a Pasifika Playwright. "This show was inspired by D. F. Mamea's mother, who just loves her garden. Every morning, she would bring her pumpkin outside, so it could enjoy the day along with her – and she'd take it back inside with her at the end of the day. The family had watched their mother continue this routine, and realised that Mama needed something to love – so they got her chickens. This show plays on loneliness, and we get to watch this 80 year old woman find joy in the smallest things, after all her children have left home to live lives of their own. "
"I hope it reminds [the audience] that our elderly aren't around forever. They raise us, teach us all we need to know to venture this world and to chase our dreams. Yet when we do end up becoming independent adults & chasing our dreams, we leave them, and we don't fully grasp how much it affects them until we of course experience it ourselves in the formidable future. They're our treasure of today, full of stories and memories, and I hope this show inspires our audiences to pay more frequent visits to their parents & grandparents." Fa'avae-Jackson suggests an intergenerational visit to the theatre. "Of all the audiences we've had so far, the elderly have been the best. Meeting them after the show and just seeing the compassion in their eyes is just gold.  It's both heartwarming and hilarious. A definite tear jerker. The show is just under an hour, so it's a comfortable length to enjoy." Suitable for ages 10 years old and up. "A lovely show the whole family could enjoy."