Toi Art at Te Papa – a first floor glimpse
When you're stepping into Te Papa's new gallery space Toi Art, be prepared for something a little different from your standard gallery experience. Toi Art is a gallery space 20 years in the making, it takes over two floors of Te Papa and the new entrance gallery is larger than any space at Te Papa. I spent over an hour just exploring the first floor so this is my first floor story.
20 years ago, Parade, one of Te Papa's opening exhibitions featured Colin McCahon's 'Northland Panels' squished between an old television set playing ads and a refrigerator, so I hoped for some next level thoughtful but different. Michael Parekowhai's latest project Détour delivers. He's mined the museum's art, history, Taonga Māori and archive collections, mixed old, borrowed and new works amongst a forest of plastic trees. I was taken by 'The B-E-T-T-Y waistcoat' by Marcel Duchamp and its companion work 'Le très joli gilet aka corpus' – a waistcoat Michael Parekowhai commissioned designer Kate Sylvester to create. Duchamp's waistcoat was designed for his friend Julius Isaacs with the buttons spelling the name of Isaacs's wife. Sylvester's waistcoat has the name M-I-K-E-P, spelled out by buttons. It's art you know but not as you know it, but it's how I love it.
Lisa walker's jewellery retrospective Lisa Walker: I want to go to my bedroom but I can't be bothered, made me smile, she has a real skill in mixing mediums and is also an amazing advocate for jewellery to be viewed as art. I really enjoyed two pieces that both challenged the idea of jewellery . 'Necklace from 2016' is constructed using five fluffy ducklings and a recently commissioned oversized piece uses old Te Papa floor tiles. What wall is not improved with a bit of jewellery? Head up stairs in Toi Art and you'll see the inspiration for Te Papa floor in Mikyla Dwyer's 'Wall Necklace'.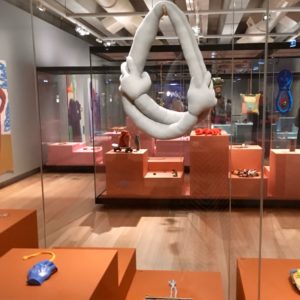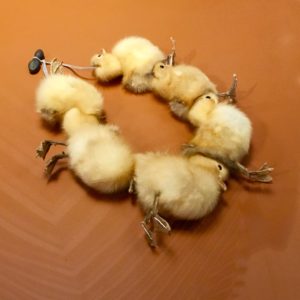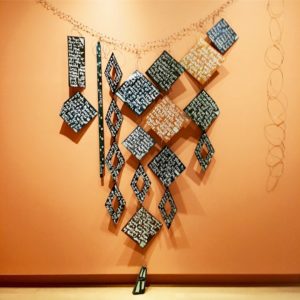 Finishing off floor one is a celebration of fashion, performance, film and art that is the powerful Pacific Sisters: Fashion Activists. Greeting you and maybe(?) acting as a kaitiaki of the exhibition is a piece commissioned for Te Papa's opening 20 years ago – yet again the curators have done this wonderful thing of tying the past to the present & it's the stories like this within Toi Art's opening I've truly appreciated. The kaitiaki is made from found and recycled materials, with a heavy emphasis of video tape (unlike a craft project or Project Runway it all feels purposeful) and she sets the story for what you'll find inside, a collection of videos, photography and garments created by the Pacific Sisters art collective. I wanted to reach out and touch everything and lucky for me one section has samples of materials used so you get the whole look and feel. Accompanying the exhibition is a Spotify playlist so you can get a feel for the fashion parade/dance party that is a Pacific Sisters event. Like everything in Toi Art  where possible everything is listed in Māori first, then English. It's very small unnoticeable but important touches like this that make me appreciate Te Papa's new space.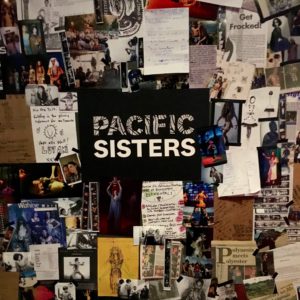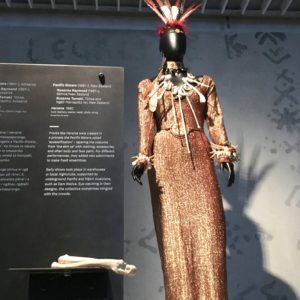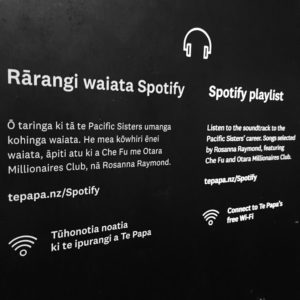 Détour by Michael Parekowhai is runs till 4 Nov 2018
Pacific Sisters: Fashion Activists runs till 8 July 2018
Lisa Walker: I want to go to my bedroom but I can't be bothered runs till 22 July 2018
Toi Art is 2 floors of Te Papa and may it run forever