NZSO Shed Series: "Juxtaposition"
My first trip to the new Shed 6 was a few weeks ago to see contemporary music outfit Stroma. They were playing a sampler of modern art music, stretching from Ravel and Schoenberg, through Boulez and Berio, to more recent work by Gillian Whitehead and David Lang. Music writer Alex Ross was our tour guide, describing and giving context to a full range of modern, avant-garde and experimental music that could have been twice as baffling without.
The conventional layout for that show had concert seating facing down the long room to a flatly lit stage and obtrusive banner stands. Taking over the same venue and for a similar musical project, the NZSO and conductor Hamish McKeich (also conductor and co-director of Stroma) transformed the space into a vast dramatically lit theatre/gallery/cabaret hybrid, with an unstaged orchestra placed sideways, some of the audience sitting at tables, benches or on the floor, and some standing.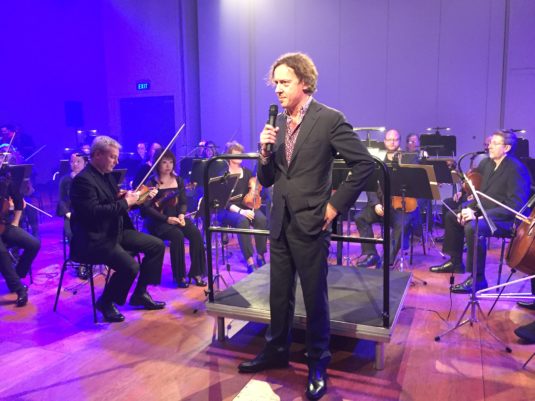 I had little idea what we were in for, aside from the drawcard of Jonny Greenwood's name. (Contrary to earlier Wellingtonista reports, Greenwood was not in attendance.) McKeich's laid-back introductions to each piece replaced any need for a printed programme.
The first few high violin notes of Arvö Pärt's "Fratres" revealed a surprisingly dead room acoustic. But as the crystalline structure of the piece rotates and descends the scale, the double basses entering was like someone just remembered to turn on the subwoofer.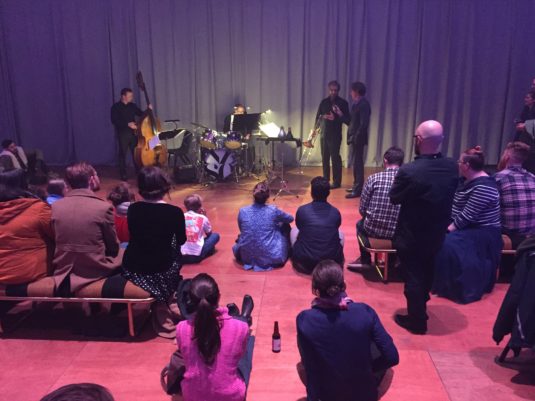 Alex Ross, in his introduction to the Stroma concert, made a point about jazz picking up the avant-garde baton in the late 50s and co-evolving with the explosion of new and increasingly iconoclastic styles in contemporary music. Wellington composer (and Stroma's other co-director) Michael Norris's "Heart Across Night" is an intricate and slightly waggish piece, played in a suitably informal space at the end of the room, and while presenting in a jazz mode – it's scored for trombone, drum kit and double bass – the cut-up, stop-start rhythms pointed to a different tradition.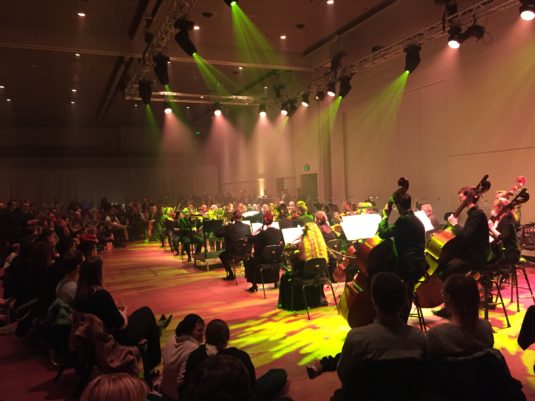 Back with the NZSO, John Zorn's "Kol nidre", a wordless reworking of fragments of the Jewish rite, carried echoes of "Fratres"; both pieces devotional and contemplative, and surprisingly consonant, using the yearning "Jewish" scale also common to Middle Eastern, Balkan and flamenco music. It turned out this was a teaser for a larger focus on Zorn in the next Shed Series show.
Haydn's Symphony no. 60, "Il distratto", was derived from his incidental music for a French stage comedy. This piece is almost post-modern, with Haydn playing multiple musical jokes, including imitations of a street band, an amateur wedding orchestra who need to stop playing to tune their instruments, and the hero's absent-mindedness as he forgets his own wedding. Its playfulness was a great contrast to the more sober pieces in the rest of the show.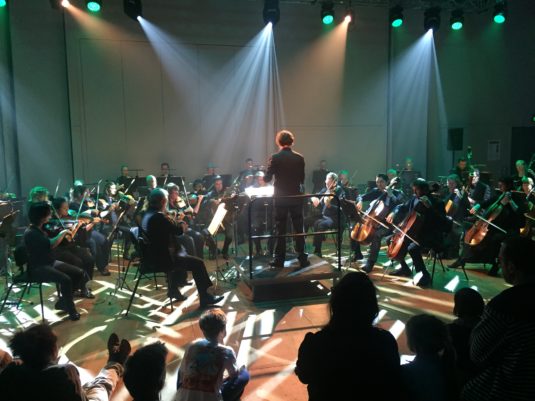 As McKeich pointed out, late Romanticism has become the dominant form adopted by feature film composers, except that the utterly contrasting thick microtonality and glissandi familiar in orchestral works by Penderecki and Ligeti is now a common shorthand for indicating chaos and terror on screen. Alex Ross, in his Stroma introduction, saw cause to celebrate this as a mainstream acceptance of new forms of music emerging in the 50s and 60s, but I'm not so sure. Jonny Greenwood's film scores, which tend not to hew as closely to the emotional or action beats as most narrative scores do, are an exception. They are also easily exported as standalone orchestral suites, heard here in a selection of six cues from "There Will Be Blood", one of which even had as its origin an item from his "Popcorn Superhet Receiver" concert piece. It moves through Pendereckian swarming microtonality, percussive effects reminiscent of Radiohead's "Burn the Witch", Bernard Herrmann-esque frenzy, and calm lyricism. A terrific end to the night.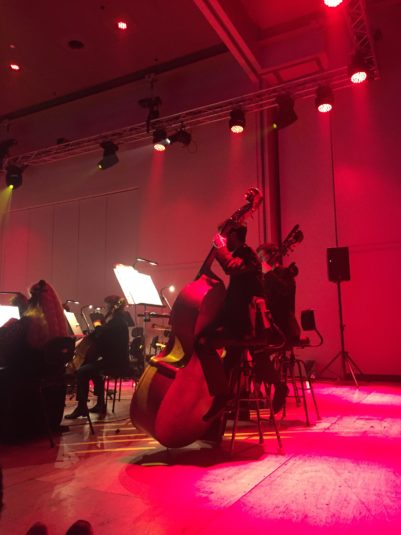 The concert's subtitle "Juxtaposition" reflects the plural histories of each piece. "Fratres" exists in many arrangements. "There Will Be Blood" is for a film but also re-uses existing concert material. The Zorn is sourced and refracted from a medieval rite, and the Haydn moved from the theatre stage to the concert hall.
This is a well-designed and thoughtful series, a great new way of experiencing modern music and far better than the formal sit-down Stroma presentation. I can't wait for the next and final show, called "Projection" and featuring Zorn and Mozart, at Shed 6 on 19th October. If you want a seat, get there early.
Sidenotes:
– Shed 6 is also confusingly called the TSB Bank Auditorium. There is also the TSB Bank Arena and TSB Bank Arcade. Sort it out, Venues Wellington!
– My iPhone reminder tone is in the same key as "Kol nidre", which was just as well.
– Cracking cans of Garage Project in between movements is the new coughing.