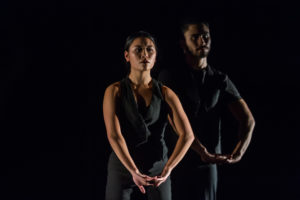 A stoa, in Greek architecture, is a portico used as a promenade or meeting place. For the NZ School of Dance, it's a place to bring people together for exploring new ideas and challenges. Well, technically two places. We returned to our seats after intermission only to be lured into a new space. (pro tip: it's an excellent opportunity to claim a better seat)
The work comprises 11 pieces over two acts, performed not in a theatre, but in two sections of the basement. The stark basement has no backstage or wings, so everything is on display. Instead of curtains, the young choreographers have risen to the challenge of using movement and light to create the transitions and distractions that keep the piece flowing. The large cast – at least 30 dancers by my count – means there's so much happening, particularly in the first act, that you almost want to watch the show a second time from a different seat to see it all. 
The choreography also make interesting use of the pillars holding up the ceiling – sometimes they're a source of support or wonder, and other times a barrier keeping people apart. I love seeing art created in a way that really uses the quirks of a space, instead of just being presented in different places.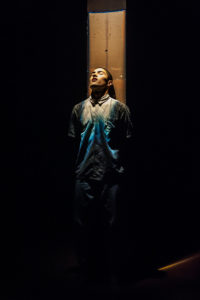 My date – who has now seen a grand total of two contemporary dance shows – preferred the stripped back setting of STOA over the multimedia production at the Opera House, and I'm inclined to agree. We also spent all of our post-show dinner talking about dance, so it looks like the NZSD's education programme is reaching audiences too. The 11 pieces together showcase a variety of styles, so STOA makes a great introduction for the dance noob: if something isn't quite your cup of tea, don't worry – a new piece will soon take its place. 
My personal favourites were the ones that showcased the emotional range of some of the dancers – the lithe young woman, occasionally partnered by a much taller man, who slowly, desperately unravels is an utterly captivating presence. The man who danced through the tiniest sliver of light. The two women who performed a duet entirely with their hair swept over their faces but still kept the audience riveted. The woman who switched effortlessly between conveying mischief, challenge, longing and more with the slightest flicker of her face.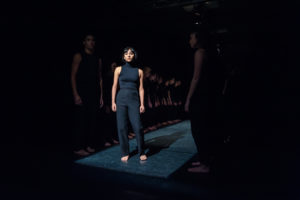 Best of luck tearing your eyes from this woman any time she's on the stage.
There's a sense of sci-fi dystopia underlying and connecting the whole series, helped along by the stark setting and frequent use of urgently throbbing music that relentlessly builds tension. I loved the androgynous neutral costumes, all different yet almost the same. As much as I love classical ballet, it's often a bit frustratingly heteronormative. It's refreshing to see dance not limited by strictly dividing up the boys and girls, both in aesthetics and choreography. STOA features some beautifully physical partnering that uses same-gendered pairs as often as opposite. Even the hetero partnering is more egalitarian than usual, with some impressive displays of strength from many of the young women. 
If this new generation is the future of contemporary dance, then I can't wait to see what they create next. Check them out now so you can say you saw them before they were famous.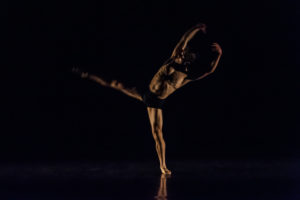 STOA is on at Te Whaea National Dance & Drama Centre until 7 July.