Review: The Don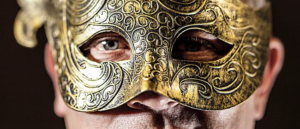 Lust, Murder and Revenge. 
The Don is a bastardization of Don Giovanni, and I mean that in a very good way. One man, accompanied by a musician, several films, and a puppet, aims to recreate the entirety of Mozart's Don Giovanni in just under an hour and thoroughly succeeds.
This show is an hour of glorious manicism, of many, many accents, and of dubious lighting cues. Though the music performed is from the original opera, all the songs have been translated into English – to quite a hilarious result. In a local take on "Madamina, il catalogo è questo", Don Giovanni's lovers spring not from places further afield, but from Christchurch, Taupo, and (most of all) Auckland. In that same vein, one particular song I enjoyed was when Don Giovanni tried to seduce a young ingenue with Nelly's 'Hot in Herre'.
Solo shows are a fabulous example of just what people can do when put under pressure on stage. Our lone actor plays six (widely different) characters – Don Giovanni himself finds solace in a can of Lynx, while Donna Elvira coats herself liberally in fans – as well as swordfighting (with himself) and partner-dancing (with himself). It was a joy to watch, and it is a wonder that he managed to spend an hour running about wildly on stage without ending up totally winded.
The Don is not just for opera fanatics – and can definitely be enjoyed by all. My theatre-going companion and I have had different experiences with Don Giovanni – he knows it well, I do not – and we both thoroughly enjoyed The Don.
Take a chance on some opera that is not your usual, and go and see The Don today!
The Don is being performed at Te Auaha in Wellington from today through Saturday the 14th of July. Book your tickets on the Te Auaha website here.