Book in for DCM Bookfair this Saturday
Head to Shed 6, this Saturday 4 August, 8am-6pm,  for the DCM Bookfair  (the largest of its kind in Wellington) supporting an amazing cause – ending homelessness. Yes, go shopping for books and every cent you spend helps most marginalised people in our city.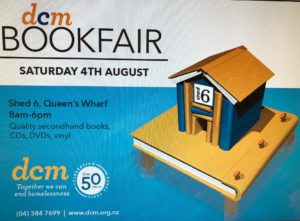 Bookfair is full of solutions to boredom at spectacular prices. Yes there are books, so many books, but you'll also find CDs, DVDs, Vinyl, Games, Stamps, Jigsaw puzzles, vintage comics & a delightful kids section.  For 22 years DCM's Bookfair has grown and become an iconic event. But just like the people DCM supports – for whom there are not enough houses – DCM's Bookfair has found itself without a place to sort books with the redevelopment of Shelly Bay. So this could be the last ever Bookfair.
DCM exists because Wellington needs them. Homelessness is increasing in our city. Last year more than 1000 people came to DCM for support; over the last five years, the number of people coming to DCM who are experiencing homelessness has risen by 38 percent. Even more concerning, the number of people who are "without shelter" (sleeping rough or living in cars) has more than doubled.
Bookfair is DCM's most significant annual fundraising activity.
If you can't make it to Bookfair but want to support the work DCM does here's a handy link to all the ways you can support DCM including easy online donations