Review: Cabaret de Paris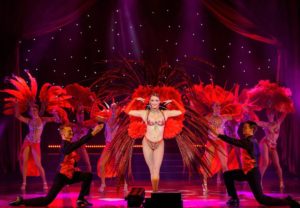 I've had Art vs Science's song Parlez-Vous Francais stuck in my head for two days because of this show and I'm not even a little ashamed to admit it.
The Cabaret de Paris is a glorious display of joy, sequins and (perhaps) titillation, and I had a very good time. Combining showgirl glamour, singing, illusionists and fabulous dancers (including a rendition of the traditional Can-Can) this show aims to bring a slice of Paris to your city for just one night.
And it certainly did so.
It is an absolute extravaganza of a show, and quite unlike anything else I've ever seen on the Opera House's stage. Featuring former Moulin Rouge performer Marissa Burgess, we're transported to a world where everything is glittery, everyone can do the splits, and the world seems a lot more simple.
Some highlights of the night were – as mentioned above – a fabulous dance number to Parlez-Vous Francais – which quickly transitioned into a vibrant version of the Can-Can that all members of the ensemble joined in with (including the men). It was such a fun vignette that I spent the entirety of the interval buoyant and excited from the sheer joy in it.
Duban Nikol surprised and wowed us with some rather energetic comedy on a trampoline – getting the loudest clap of the night – and Michael Boyd (of Australia's Got Talent) pulled off some thoroughly impressive illusions.
There was also a gorgeous pole-dancing vignette (on quite a precarious pole), a bizarre but wholeheartedly fun mashup of Voulez Vous and Voulez Vous Coucher Avec Moi, and far too many feathers.
As well as a fair bit of nudity.
Topless shows are an interesting premise in today's world – with the depths of the lurid side of the internet so easily reachable, they seem a little obsolete. Speaking as a queer woman, presumably right in the center of this show's demographic, out of context breasts aren't at all titillating to me. I'm sure that wasn't a idea echoed by a large potion of others in the audience, but it was just something I found interesting.
There were moments in the rest of the show – such as a contextual song number where two of the male dancers helped Marissa Burgess strip (naughty bits covered with feathers, of course) – that felt far more erotic, but I'm sure there's something in this show that'll tickle anyone's fancy, if that's what you're looking for when you go to a cabaret.
The Cabaret de Paris is a lot of fun, but lacks the self-awareness that one would hope would be present in a show like this. It is, however, a spectacle that is far unlike a lot of local content. If you like shiny costumes, pretty people and illusions, this one's for you.