Review: The Barber of Seville
The Barber of Seville is a very silly opera.  Last night's opening performance at the Opera House took that silliness to extremes, mostly to good effect.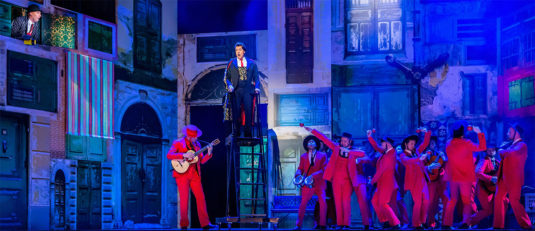 While very silly, there's no doubt that it's also very good.  Orchestra Wellington delivered Rossini's classic under the graceful guidance of Wyn Davies, and the addition of a Fortepiano and some bespoke percussion lent it real authenticity.
Sandra Piques Eddy and John Tessier as Rosina and Almaviva were vocally very well matched and had excellent chemistry.  The score is more than a little challenging, but they rose to it adeptly and with consistently high energy throughout.  The rest of the cast were incredibly hard-working and yet everyone looked like they were having a riotously fun time.
Morgan Pearse's Figaro was superb, and he very much deserved the ovation he received.  I was immediately impressed with the way his voice and physicality were so well blended.  Hilarious, committed, and ridiculously talented – I hope he comes back to Wellington for future NZ Opera productions.
This production started in Queensland in 2016, the 200th anniversary of the opera.  Lindy Hume celebrates this by hat-tipping the original 1816 premiere in fine details; for example, the costuming covers key eras since then.
Tracy Grant Lord has outdone herself with that costuming and her cleverly transforming set.  Bright and lively, her work supports the cast's characterisation perfectly.
That liveliness skirts hysteria towards the end of the first act.  The plot is confusing and the action frenetic.  Everyone onstage, a million things happening, crazy lights and smoke… I couldn't keep track of those fine details that had been so carefully constructed.  The story DOES descend into madness at that point, but I was genuinely grateful for the interval.
That aside, I thoroughly enjoyed this joyful, exuberant show.  I think anyone would, provided they have at least a little silliness in them.