A Definitive Ranking of Some of Wellington's Most Cursed Locations
Cursed places. You might be familiar with them. Places you walk into and it feels like there's ghosts, places that are a bit spooky or a bit weird or send a chill up your spine. To put it more colloquially – bad vibes.
A place doesn't have to be dilapidated to be cursed – I often find too-lit shop fronts and meaningless frightening products to be quite cursed for me – but a lot of cursed places are a bit fally-aparty.
Via my Twitter account, I crowd-sourced a list of the most cursed places around Wellington. You can find that Twitter thread, and its colour commentary here. I've also assembled the list into a Google map, so you too can go for a wander about Wellington's weird-feeling and hidden locales one day if you're up for it.
Here are some of my highlights, ranked. I've not included any cafes or shops and the like as I don't want to be sued, but there are definitely plenty of them that have weird vibes. You'll just have to hunt them out yourself.
Rintoul/Riddiford St crossing – Newtown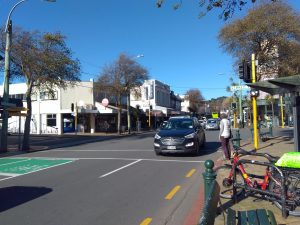 (Pictured supplied by Kris.)
Why is this cursed? Who knows. But it is. Why does it take so long for the traffic light to go? Why are there so many roads to watch out for when crossing? Will you be hit by a bus while crossing? Probably. It's frightening, at least vaguely.
2/10 – mildly cursed
Reading Cinemas, Courtenay Place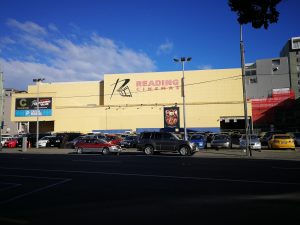 Robin Hood (the massive movie poster still ignominiously stapled to the building) came out on November 22 2018. Reading Cinemas closed because of earthquake damage on January 5 2019. 'Nuff said, really.
3/10 – mildly cursed with a hint of rose-tinted nostalgia. I miss the Gold Lounge more than I miss some of my friends.
Lobster Loos – Customhouse Quay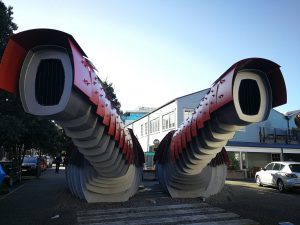 Designed by architect Bret Thurston and installed in 2011, these toilets are great to look at on the outside but not so nice within. If you're looking for a clean public toilet, perhaps try those further down the waterfront. Inexplicably cursed, though I'm not sure why.
3/10 – mildly cursed, with much enclosed regret.

Clifton Cable Car Stop – Clifton Terrace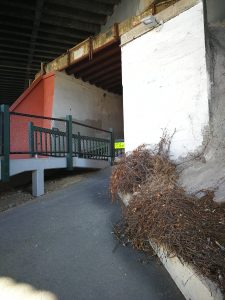 The cable car is a Wellington institution. The Clifton cable car stop less so. Travelling upwards, it's the first stop. Travelling downwards it's the last. After six years in Wellington I've seen approximately one person use this stop, and I still don't know why. As I write this, the cable car is having its annual maintenance, and as such, I would describe the stop as 'desolate', 'weird', and 'mildly frightening'. It backs onto the Clifton car park, which I would also describe as all of those things.
4.5/10 – mildly cursed. It is not at all signposted. How are people supposed to find this place? (Maybe they're not????)

Farmers Lane, Terrace/Lambton Quay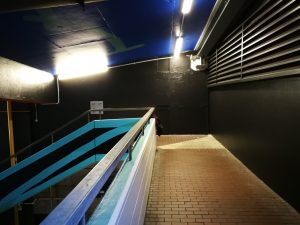 I was pleasantly surprised when I arrived at this location today, for it was much less cursed than I was expecting. Farmers Lane stairs provide a haunted link between the Terrace and Lambton Quay – right next to the Lambton food court – and are usually pretty horrifying. However, they've been painted with a mural, so they're vaguely less so now, though, still fairly grim. The lovely people over at Wellington Steps (a blog categorising all of Wellington's many, many steps) have discussed them in full, grim, pre-painting detail.
Still a fairly frightening look out towards some bins if you stop to peruse whilst traversing downward.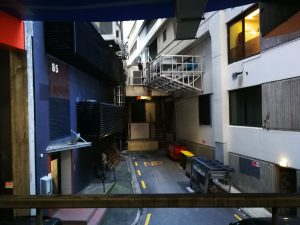 4.5/10 – mildly cursed, but only because I have a fondness for the ramen at the Lambton Eatery.

Kumutoto Stream, Woodward St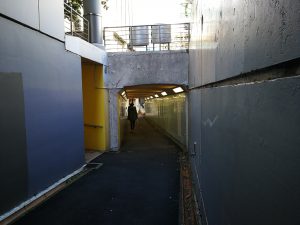 Kumutoto Stream is a tunnel that runs under the Terrace from the Clifton carpark to Woodward St. Part art installation, part weird vibes, this tunnel is unique to many tunnels in the sense that when you walk through it, you can hear birdsong and running water. A 2014 art installation, the use of birdsong and nature is supposed to invoke the feelings of walking alongside the former Kumutoto Stream (which ran roughly around this spot), and allow passers-by to consider their place in Wellington's history and what occurred in the spot before them.
Which it does, to a point.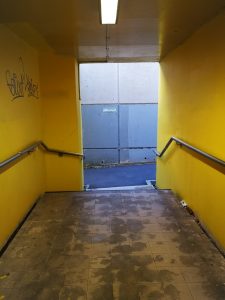 It also inspires feelings of fear. In me. Because walking through a dark tunnel towards an even darker carpark late at night is frightening even if you hear birds along the way.
5/10 – somewhat cursed. I like the birdsong and the idea, it's just very… creepy.

The Exchange Building/The Atrium – Blair/Allen St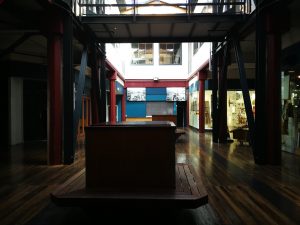 Took me a little bit of wandering around to find this one. Word is that it used to be the site of Wellington's produce markets, for over fifty years. Currently it acts as an event space for hire, open to the public during the day but closed off at night, as well as an overflow space for Monsoon Poon (nearby).
It is a heritage building, and it is also inexplicably cursed. I didn't know it existed, which adds to the horror, but it's also just a very weird – almost liminal – space. There's a feeling of people in the space, but there's no one around. It's silent, almost, wrapped in weird curtains and dust motes. A space on the verge of potential, but not quite there yet.
It's also just really weird being able to see into shops from the back, like some kind of ghost.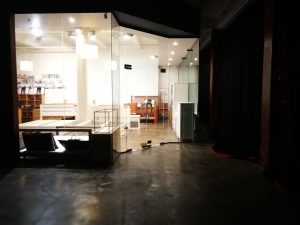 6/10 – genuinely unnerving.
Capital on the Quay, Upstairs – Lambton Quay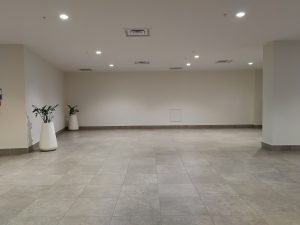 If you go out of the upstairs part of Whitcoulls on Lambton Quay and head towards Capital on the Quay, you'll walk right into this very weird and freaky space. It's right next to some lifts, but that still doesn't explain the weird aura and uncomfortable blankness that the space holds. Y'all, chuck a mural in there. Paint a wall. Do something to make it look a little less like a set from a bad Netflix sci-fi film. Please. It's freaky.
6.5/10 – I don't like this at all.
Taste on Willis – Cnr Willis St/Lambton Quay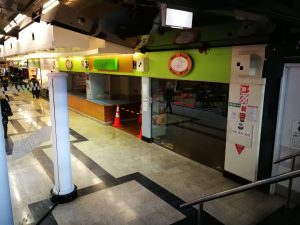 If there is one food court forsaken by all things holy in Wellington, it's definitely this one. Yeah, most food courts are mildly cursed. They're transient spaces, odd and freaky and full of a faint layer of grease, but Taste on Willis is… something special.
Sometimes the escalators work. Sometimes they don't. I had a sprained ankle recently and couldn't go down stairs and not a single one of their escalators was working, which really put a spanner in my plans to go to JB Hi-Fi. It's a good day if all of their escalators are working, I'll tell you that much.
It's less creepy when there's people in it, so if you've got a hankering for the fine delights that food courts have, go around lunchtime. If you want to conduct a ritual to summon a vaguely salty demon, try almost any other time. I would hate to be trapped in there at night.
Also, their bathrooms are through a side door and down a set of murder stairs. For starters, not great accessibility, and secondly – freaky.
7/10 – I know there's many other food courts in Wellington but please. This place is haunted.
Oaks Upstairs – Cuba St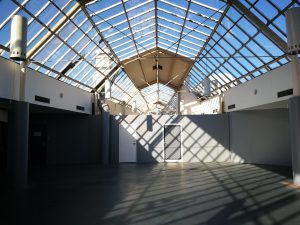 Now, I've not been to the Oaks Satay House, but I've heard good things. What I've not heard good things about is the utterly strange space that's upstairs next to the restaurant. It's completely blank, signless, seemingly unused. In the Tweet thread I pulled a lot of these from, it was the one place that cropped up most often. What's going on up there?
During CubaDupa 2019, Binge Culture used a portion of the space for part of their excellent show This Text Will Self-Destruct and it worked nicely. Honestly, I'm sure the place would be fine if it was just used for something, but as it stands, it's not and it isn't, and it remains insanely cursed.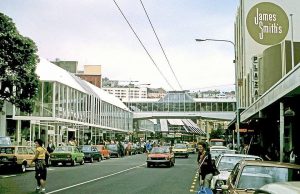 Old Wellington Region (Facebook Page)
Historically speaking, the Oaks replaced the Royal Oak Hotel in the early 80s. The Royal Oak had quite the exciting history (warning for aged language around queerness) but was demolished in 1979 and replaced by an elaborate shopping complex, including a covered walkway across to the James Smith building. The Bamboo and Sol bars were apparently places to be in the 90s.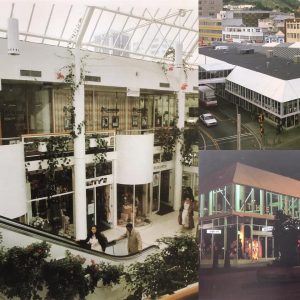 Vicky Robertson, Late Lost Nightlife of Wellington (Facebook group)
Now, however, the Oaks is almost featureless upstairs, and a selection of bars, excellent bookshops and retails stores downstairs. One hopes that someone could find something to do with the very weird location upstairs at some point in the future.
8/10 – freaky and cursed, but mostly because of the history.
James Smith Carpark/Opera House Lane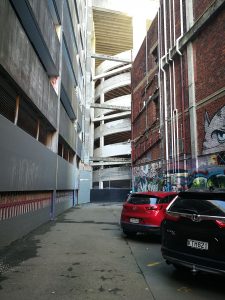 Look, I'm fairly fond of Opera House Lane. I've filmed things there, much like literally everyone else shooting in Wellington, and I'm a big fan of the opera house. However… the James Smith carpark, and to an extent Opera House Lane itself are unmistakeably, insanely cursed.
The James Smith carpark was closed sometime in 2018 for earthquake repairs and now stands as a weird, slightly apocalyptic monument to car parking in the city. Opera House Lane itself reportedly has a checkered history, and the whole place feels vaguely… weird. Spooky, haunted, abandoned by time.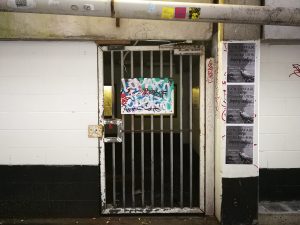 Maybe it's the padlocked doors, maybe it's the walkways that go nowhere, or maybe it's the barbed wire, but there's something so alien and inhospitable about this area. I like it, but it frightens me. It's a transient space, full of empty carparks and empty moments, and almost definitely some dangers.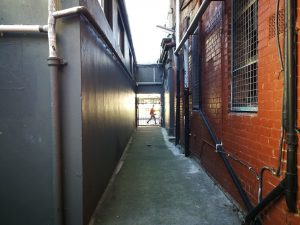 ????????/10 – wildly cursed.
These are obviously not the be all and end all of weird and spooky places in Wellington. Check out the map. Comment your own. We live in a city with a lot of strange, cursed history – it's no wonder it shows up in our streets.