Preview: Ecology in Fifths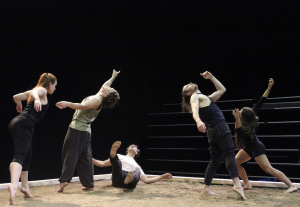 Award-winning director and performance designer Sam Trubridge is bringing a bold new performance to Te Whaea this August. Taking inspiration from H Guthrie Smith's 'Tutira: The Story of an NZ Sheep Station' (1921), Ecology in Fifths enacts this obsessive account of NZ ecology — now a recognised classic in environmental science worldwide. Piece by piece, the NZ myth of a 'clean green and natural landscape' is unravelled to reveal the environmental tensions that lie underneath our grassy paddocks and forest canopies.
Developed by Trubridge's production company The Playground NZ, the show had its first development season in 2010, receiving glowing feedback from test audiences. Spectacular performance design by director Sam Trubridge and stunning choreography by Sean MacDonald (Ngāti Kahungunu, Ngāti Raukawa, Ngāi Tahu) combine to present a powerful, poignant lament for the lost ecologies and history of Aotearoa NZ. An immersive soundscape by NZ composer Bevan Smith transports the audience through the evolution of the story: a transformation occurs, as Guthrie Smith's principles are interwoven with Māori myth and legend. Marcus McShane, a prolific and talented lighting designer joins the design team. McDonald  is joined on stage by Hannah Tasker-Poland, Emmanuel Reynaud, Brydie Colquhoun, and Luke Hanna.
Environmental issues are a critical theme in the production that extend into its design realisation, with an emphasis on developing sustainable practices. With the short life of many structures built for theatre it can sometimes be costly to our environment. As explained by Trubridge "Productions often compromise design or personnel in order to make theatre that tours easily. Our challenge is to ask how we can sustainably produce the original concept without having to lose the spectacle and intrigue of design led performance"
Ecology in Fifths is a new production by the makers of Sleep/Wake (Auckland Festival 2009, NZNP Festival New York 2015) and the acclaimed annual Performance Arcade festival on Wellington Waterfront (2011-present). This new work develops the company's unique style and explores the integration of musical composition, choreography and set design. This orchestration of performing elements reflects upon the ecologies in our everyday lives, illustrating how microcosmic events can have a significant effect upon global crises.