That's All She Wrote – Review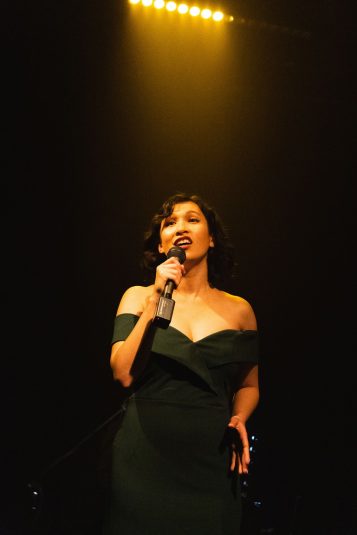 I've  found myself in a very lovely, very privileged, and deeply uncomfortable space.  I've seen three previous Red Scare Theatre Company shows, and I've genuinely loved them all.  I will have to enlist one of my 'Ista comrades to review their shows in future, to preclude claims of bias and shameless fangirling.
Each of those shows has been directed by Cassandra Tse.  She's a powerhouse, and I think a real asset to Wellington theatre.  Tse has a delicate hand as a director; great comic timing, a good sense of the dramatic, but more importantly, a deep empathy for both her characters and the actors playing them.  These days, that's rare and precious.  But, that makes her a truly great director.
I was really excited to see Tse in a one-woman show, actually performing.  I imagine it helped that her Red Scare partner James Cain was directing, and I can't imagine anyone would understand her vision for the show, and how to support it, better than him.
Further disclaimer – I know Katie Morton, the music director, and I actually own their albums.  Katie is, and I cannot stress this enough, a genius.  They were a brilliant choice to arrange and orchestrate the music.
About the show.  Cassandra Tse follows the time-honoured formula of monologue-music-monologue, with her only prop a large playbook.    Tse speaks of the musical theatre backdrop of her childhood, and wryly notes that she was a bit of a precocious showboat.  She describes her need to showcase female and non-binary writers, who are not well-represented in musical theatre, and often only find a platform to write and direct once they've established themselves as performers first.   Their shows aren't well-known, and Tse admits that some of the numbers were new to her when she started researching.
Oh yes, she researched like a mofo, and the mini-bios she gave us for the various women and enby writers and shows she chose to shoiwcase were interesting and delivered with great affection and respect.
The sound was a bit shonky to start, with Ellie Stewart's backing vocals and violin mixed too loud, and perhaps a bit too much reverb on both mics.  It came right pretty briskly, though, and the sound and lighting responded intuitively to the tenor of each anecdote and song.  Tse looked incredible, in a deep green off-the-shoulder dress.  Finger waved hair, red lips.  She was every bit a headliner and when she talked about singing in New York, I could easily imagine it.  She was centre-stage on a little riser, with her band of four excellent musicians in a semi-circle around her.  The lights were speak-easy moody, with occasional nightclub flash.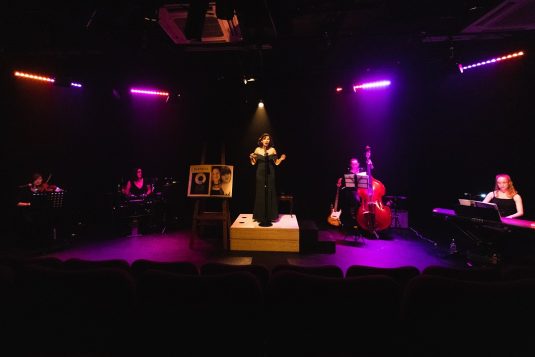 I didn't know the shows, and I didn't know the writers.  And I was NOT expecting Cassandra Tse to have a belt.  (That's on me.)   Her voice was bloody marvellous, a rich and forceful contralto with loungey swing when the song needed it.  She was less powerful in the upper register but that gave those moments a sweet fragility.  Her accent was for the most part, American, but as she said, musical theatre tradition is to adopt the accent of the show's setting.  The songs were varied and lovely; songs by women about women's experiences.   I came home inspired to listen to Hadestown, Fun Home, and Waitress, and I'm grateful for the introduction to those incredible shows.
There were a couple of weaker numbers, but that's a matter of personal taste.  Other people might find them wonderful.  And every number was performed with emotional sensitivity and integrity – Tse shrugged effortlessly into each song's narrator one after another, rather than just singing as herself.  But there was a little of her in each one, too, as she has clearly connected deeply with each number she's chosen.
The final song (apart from a well-earned encore) was one Cassandra Tse wrote, especially for the show.  It was a gratitude, and an encouragement, and a tribute to all the women who write but hide it away, because life is busy and it's "just a hobby".   And this show in its entirety is a love letter to women who decided that they deserved to stop hiding and let their writing out into the world.   It was engaging throughout and I wept on more than one occasion.  Thank God the lights were dimmed.
This was supposed to be the development season for That's All She Wrote.  However we live in uncertain times, and the rest of the performances have been cancelled due to the Covid-19 level change.  Red Scare are looking into digital options, but that raises potential issues in terms of licencing for the songs.  I wish them all the luck, and hope the show can go on, albeit at a later date.  It's really good, guys.